Heidi Klein Summer 14 … what's in store?
The other week I popped into the Heidi Klein high summer press day, which turned out to be one of the most fun press days around. Forget all that poking around rails of garments with hoards of other journo/blogger types elbowing you out the way, the Heidi Klein team presented their collection on an appointment basis with brand creators Heidi Gosman and Penny Klein sitting front and centre talking us through their looks.
With a model showing us how it should look if you were 20 years younger and had not been addicted to chocolate buttons and the odd glass of vino for the past decade, we saw their bang-on-trend collection which is landing in stores right now.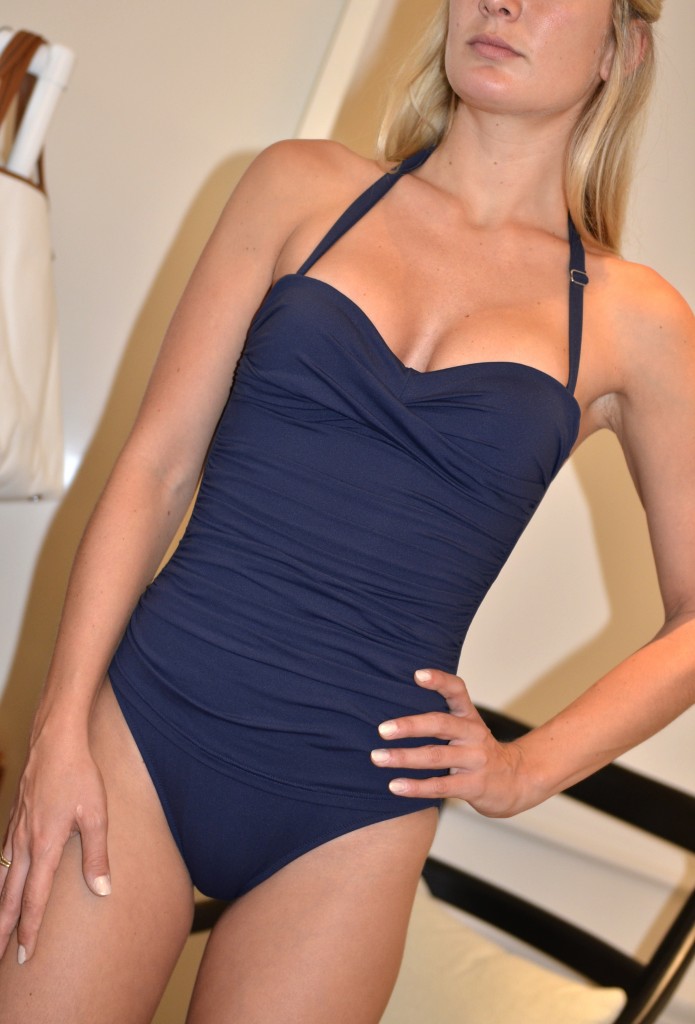 Ravello ruched bandeau one piece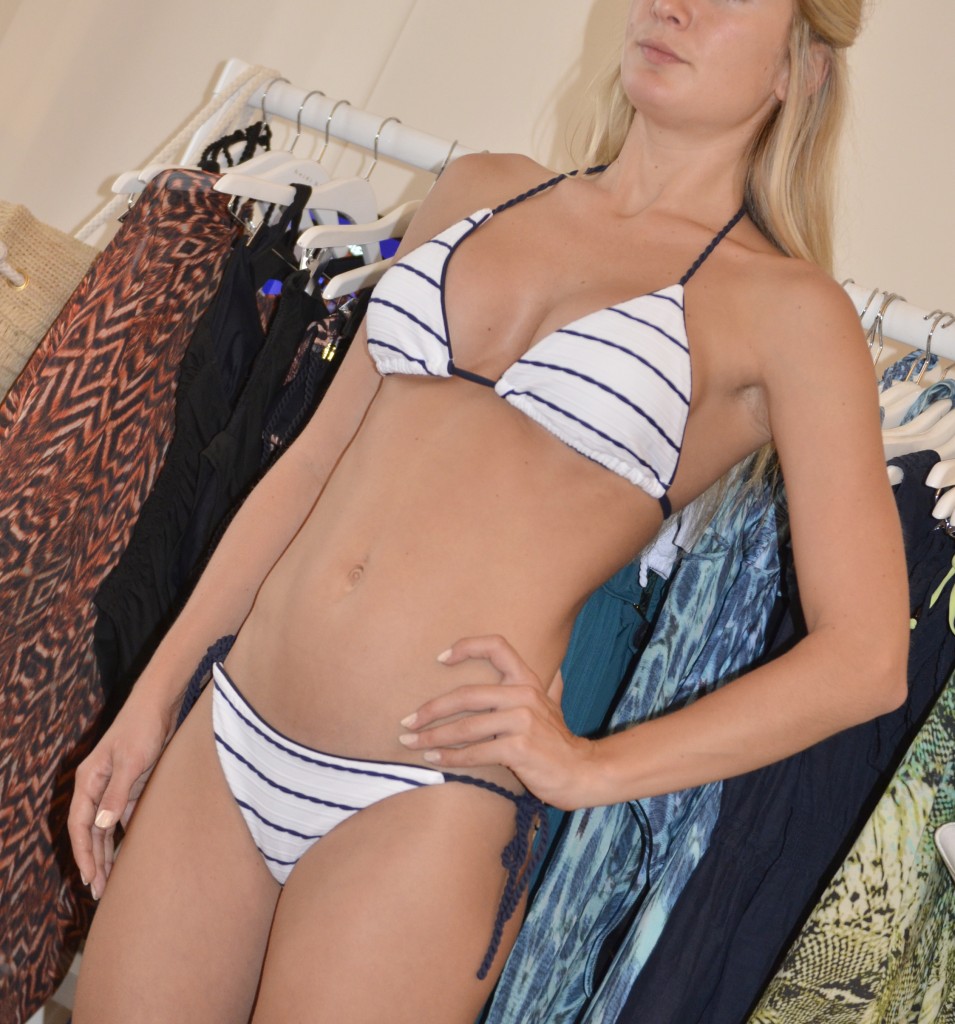 The Heidi Klein brand has been creating to die for resort wear for the past decade, but sitting through the presentation, whilst the team tried to cajole me into having a mani from the in-house manicurists, I learnt one hell of a lot about the technicalities of swim wear these days, and how their obsession with sweating the small stuff on the design front has brought about the creation of their new 'My Body' range.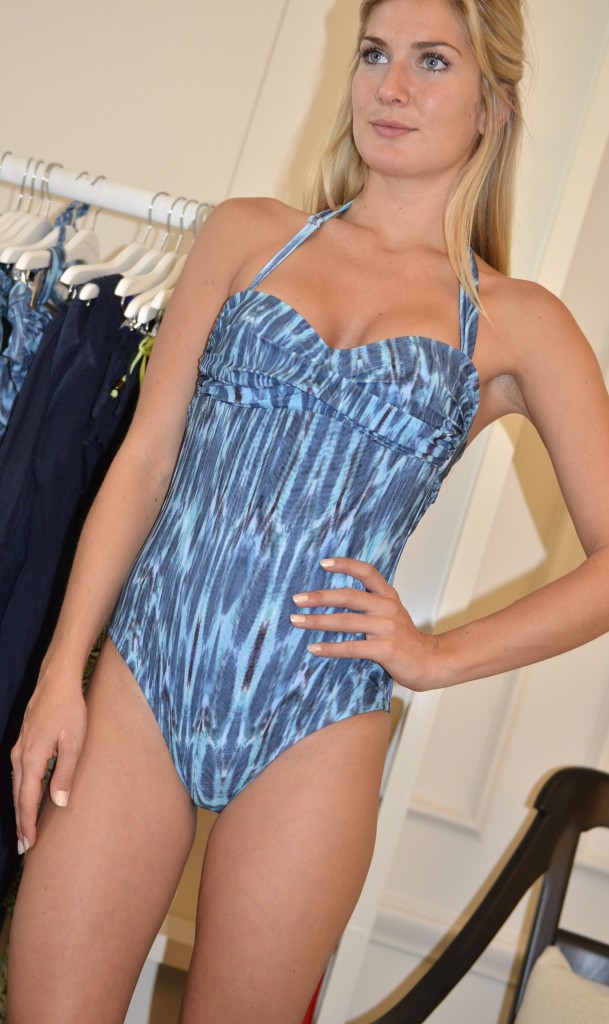 Laos twist bandeau control one piece.
These days the Heidi Klein brand is not just about punting out pretty beachwear, they take the comfort, fit and practicality of their garments very seriously. Judging by the science stuff behind the construction of the new range, I for one am certainly glad that there's someone in my corner worrying about whether that bandeau top is actually going to stay stuck to my chest, or whether that white bikini is definitely not see-through when I step out from the ocean Halle Berry like (or Ursula Andress like….depending on your era)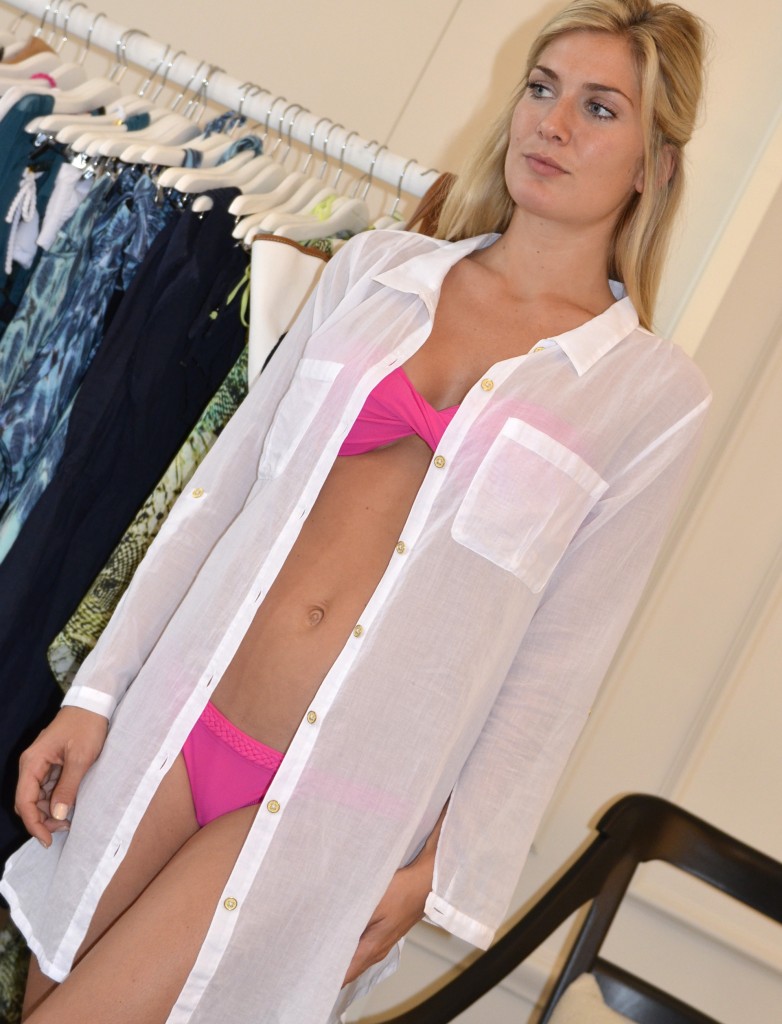 Ischia twist bandeau bikini and Martinique oversized shirt.
 I'm always a sucker for a little nautical twist in the summer – loved this boat neck dress…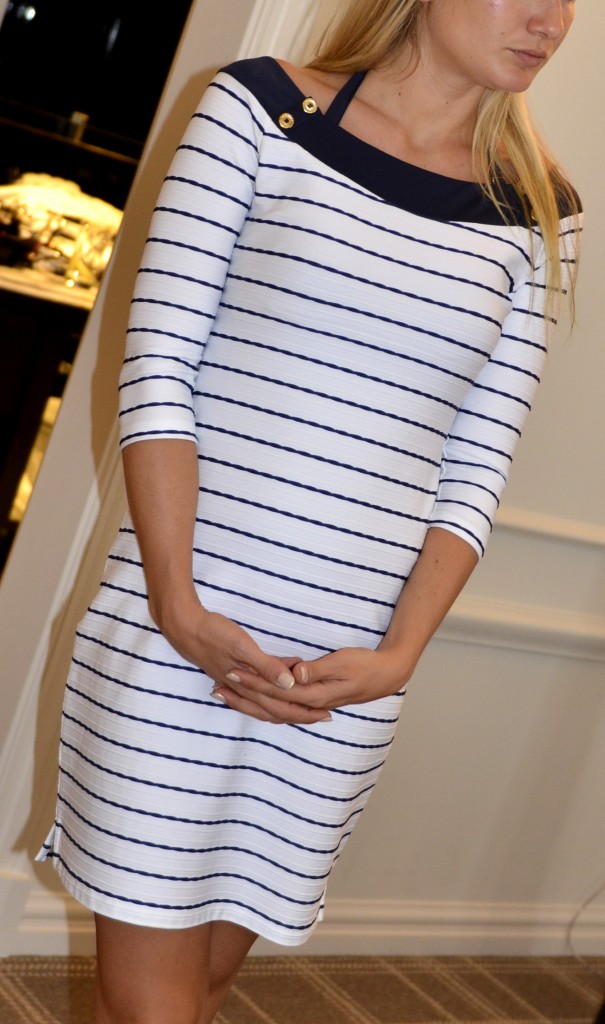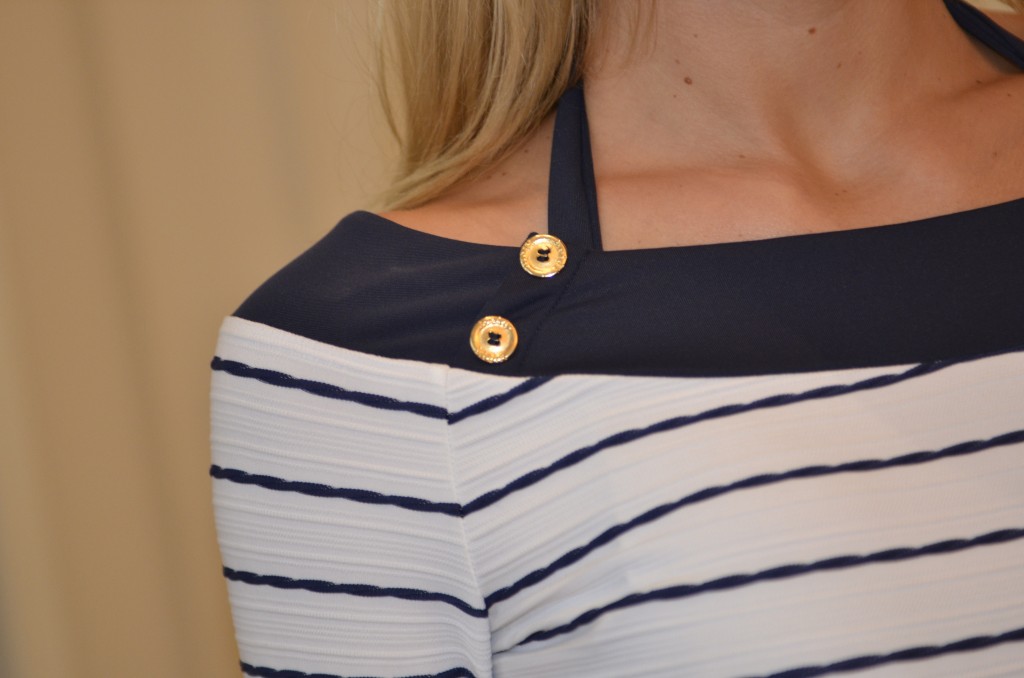 Ravello button boat neck dress
And this cut work dress is perfect for segueing from the beach to the bar…
Vernazza cutwork ruched V-neck dress
Heidi Klein … pop quiz with Heidi Gosman
So apart from making great swimwear which holds all your bits in, along with co-ordinating resort wear which guarantees you uber chic status on the beach, what do we know about Heidi Klein?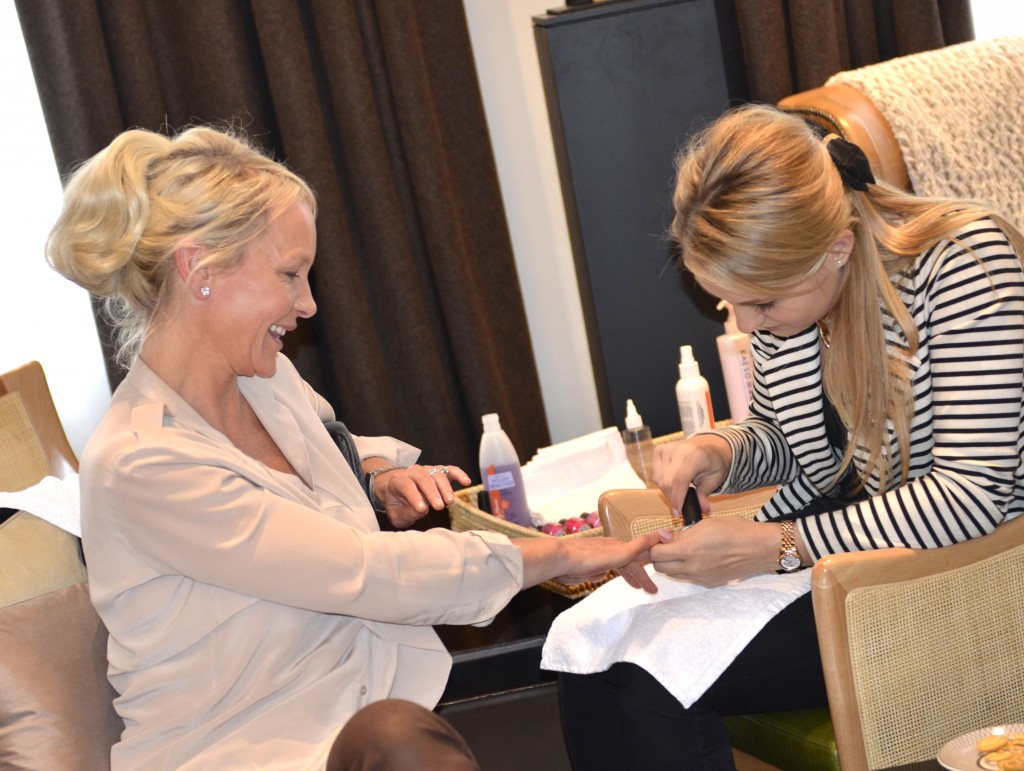 Heidi Gosman taking time out for a quick mani at the press day
Luckily Heidi Gosman answered a few pop-quiz questions for me….here's a smattering…more to follow later in the summer when I take a little trip with some Heidi Klein pieces to some rather glam destinations…purely for research purposes obvs!
Which item do you wish you could have kept from your mother's closet?
It has to be a 1960s pair of Prada shoes
Name your top three designers?
Chanel, Valentino and Celine, they are such beautiful, iconic brands
What's your personal style quirk?
I like muted colours, lots of beige and white in classic cuts.  Summer brings out my nautical style; you can never have enough Bretons.
What's your favourite item of clothing?
A classic oversized white shirt. The heidi klein Pin Tuck Shirt is one of my favourites to throw on at the beach when heading to the bar or restaurant.
What do you splurge on?
Definitely jewellery; accessories are a great way to dress up an outfit
What's your most cherished garment?
A vintage Dolce & Gabana cocktail dress
A fashion rule you should never break?
To wear what suits your body shape and colours that compliment your skin tone rather than simply what's in fashion.
(Visited 20 times, 1 visits today)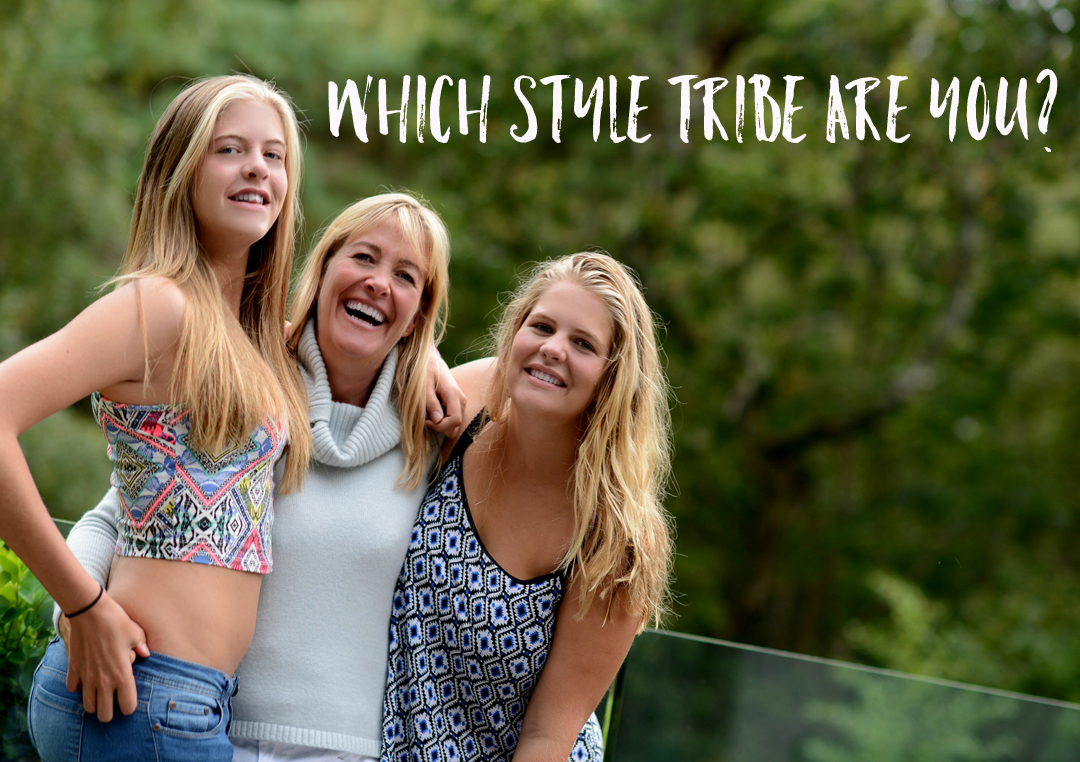 Style Tribe Quiz
Try our Style Tribes quiz to help figure out your Style ID
Get started with our free 5-minute style
tribes quiz - sign up to download