The magic of monochromatic dressing for midlife muffin top.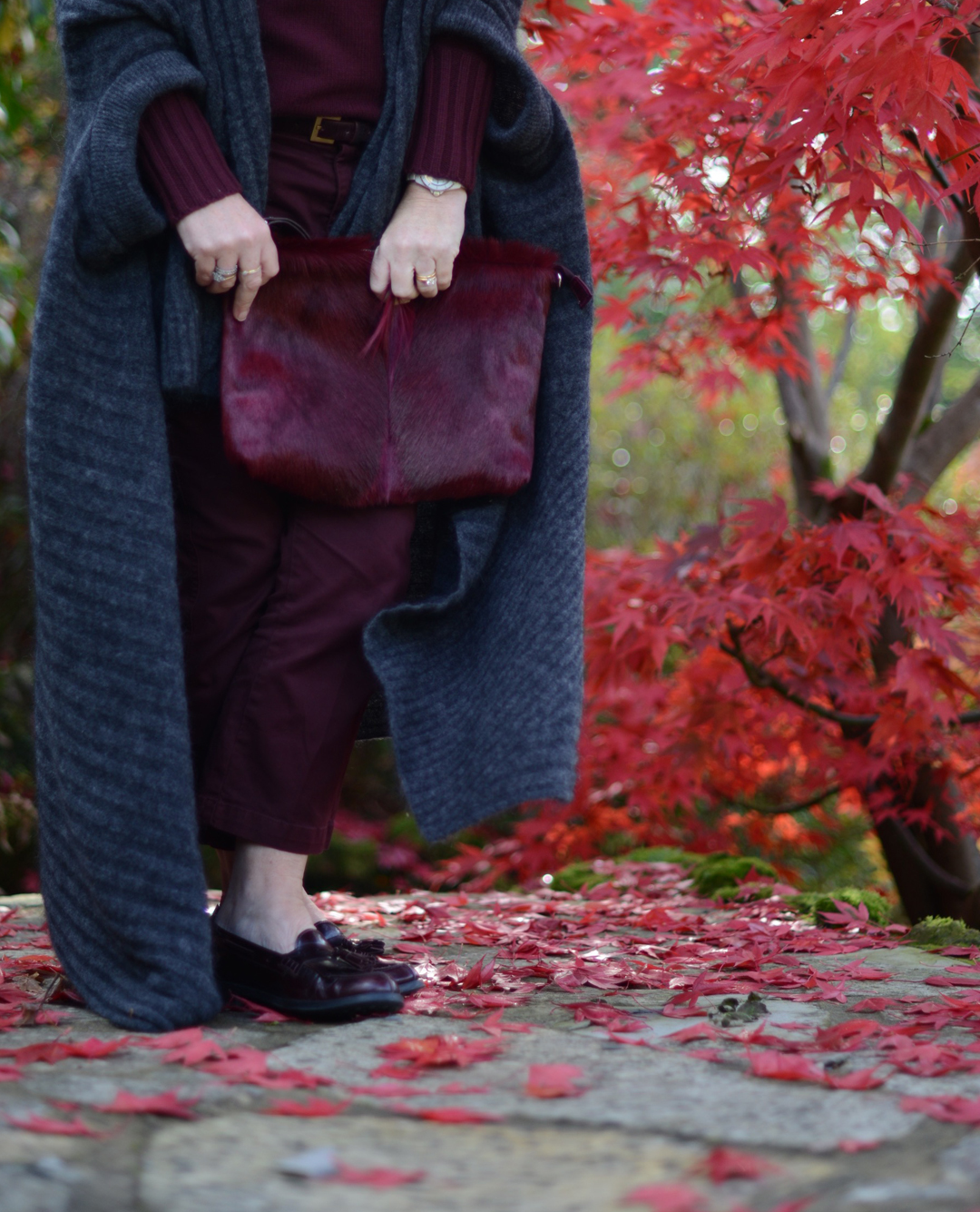 If like me, you seem to be hurtling towards the dreaded 'midlife' body shape where anything you used to wear just doesn't fit, and anything new you try has you looking in the mirror and sees your mother looking back at you. Then it's time to take command of a few fashion styling rules and use them to your advantage. Step forward monochromatic dressing – long since the bastion of all style minimalists, it's actually a handy styling trick we can all borrow and throw into our outfit armoury.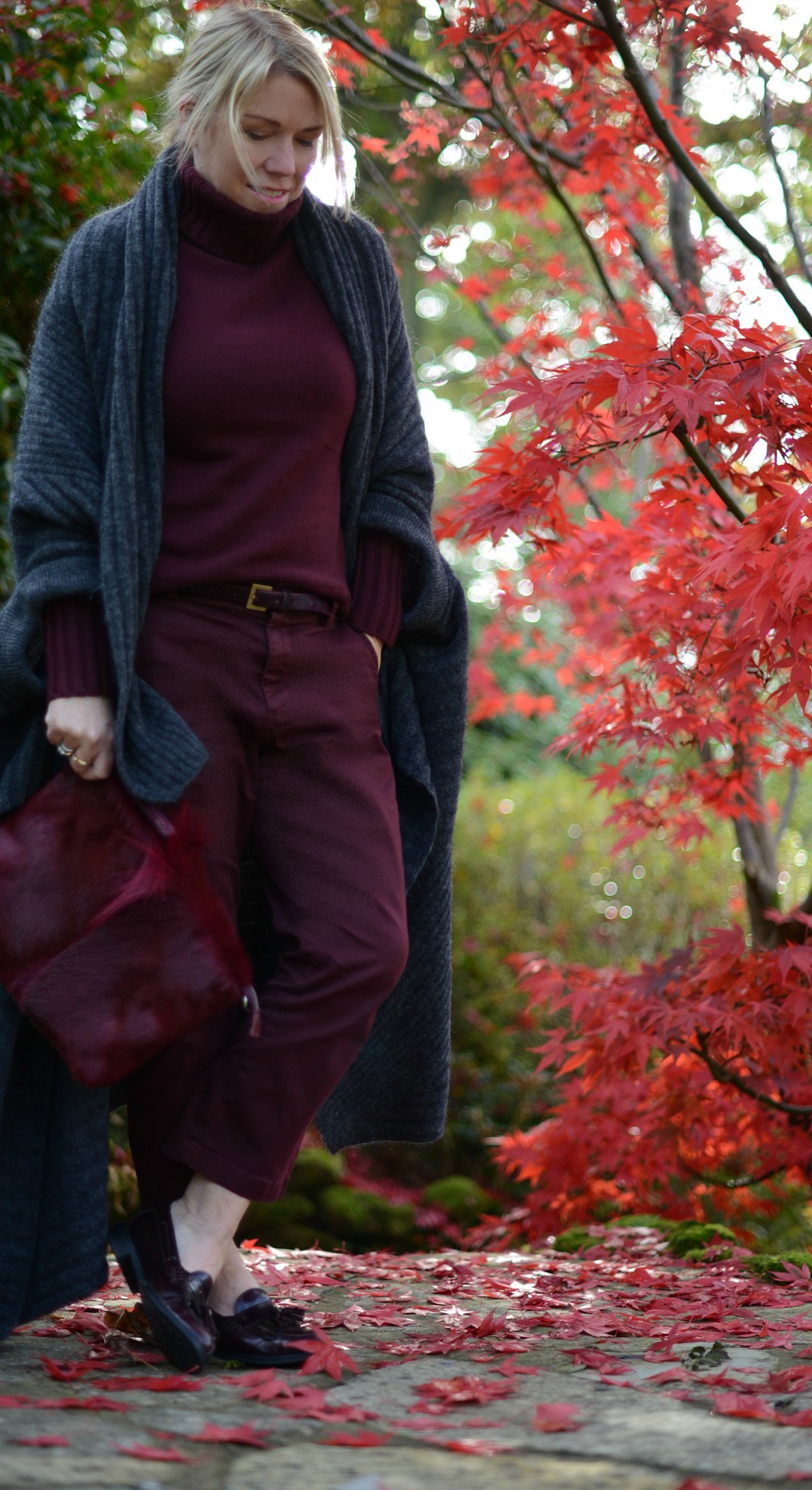 Monochromatic dressing doesn't have to be all about the monochrome – where black and white are the only sombre features. Nope – modern day monochromatic dressing is actually more about dressing in one colour from top to bottom and reaping the benefits of the simple elongated silhouette it offers.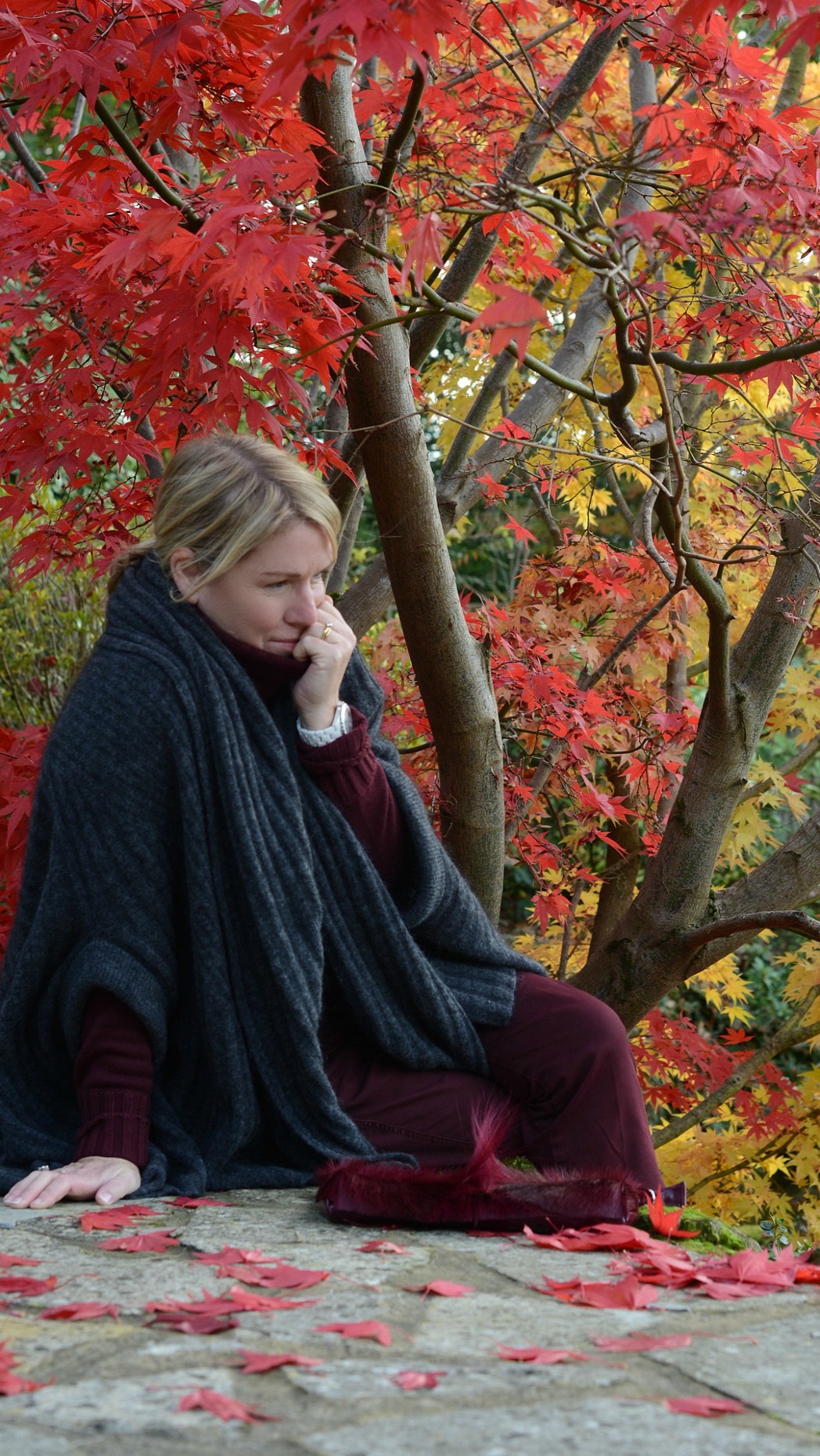 In the colder months I love to wear darker hues, but being a pasty Brit I also like to steer clear of black which washes me out, so I tend to opt for navy, neutrals and burgundy or oxblood. I paired this J.Crew sweater and Sammie pants with Tod's loafers (similar here), a Sherene Melinda cross body bag and this enormous Acne Studios cardigan (similar here).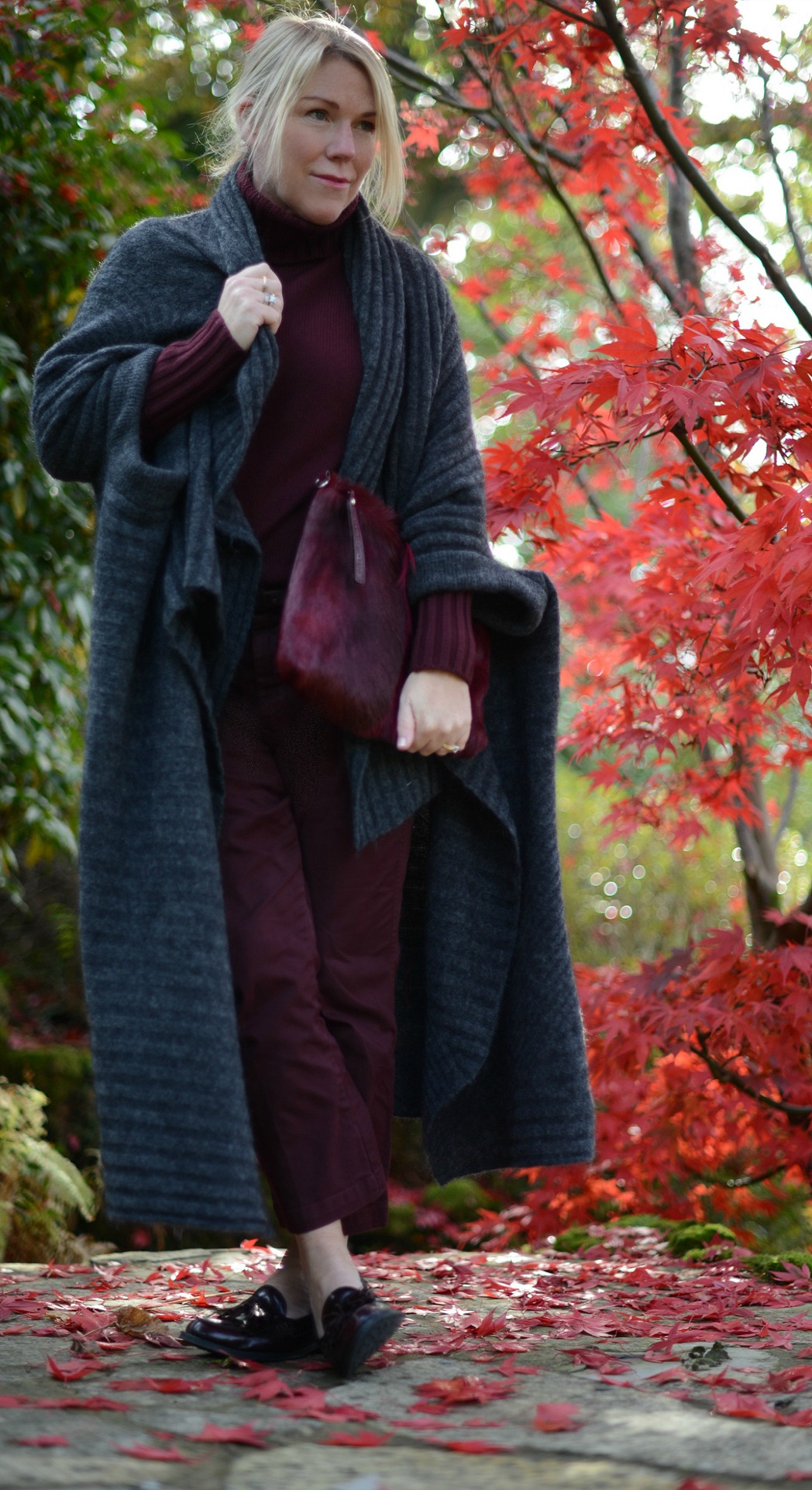 Another nifty styling trick which the folks over at J.Crew can never get enough of is tucking the front of your sweater or shirt into your belt/waistband and allowing the rest of your top to fall over your hips & butt. This gives the illusion of a slimmer waistline and is the perfect foil to that pre-menopausal thickening waistline lark which seems to be heading my way.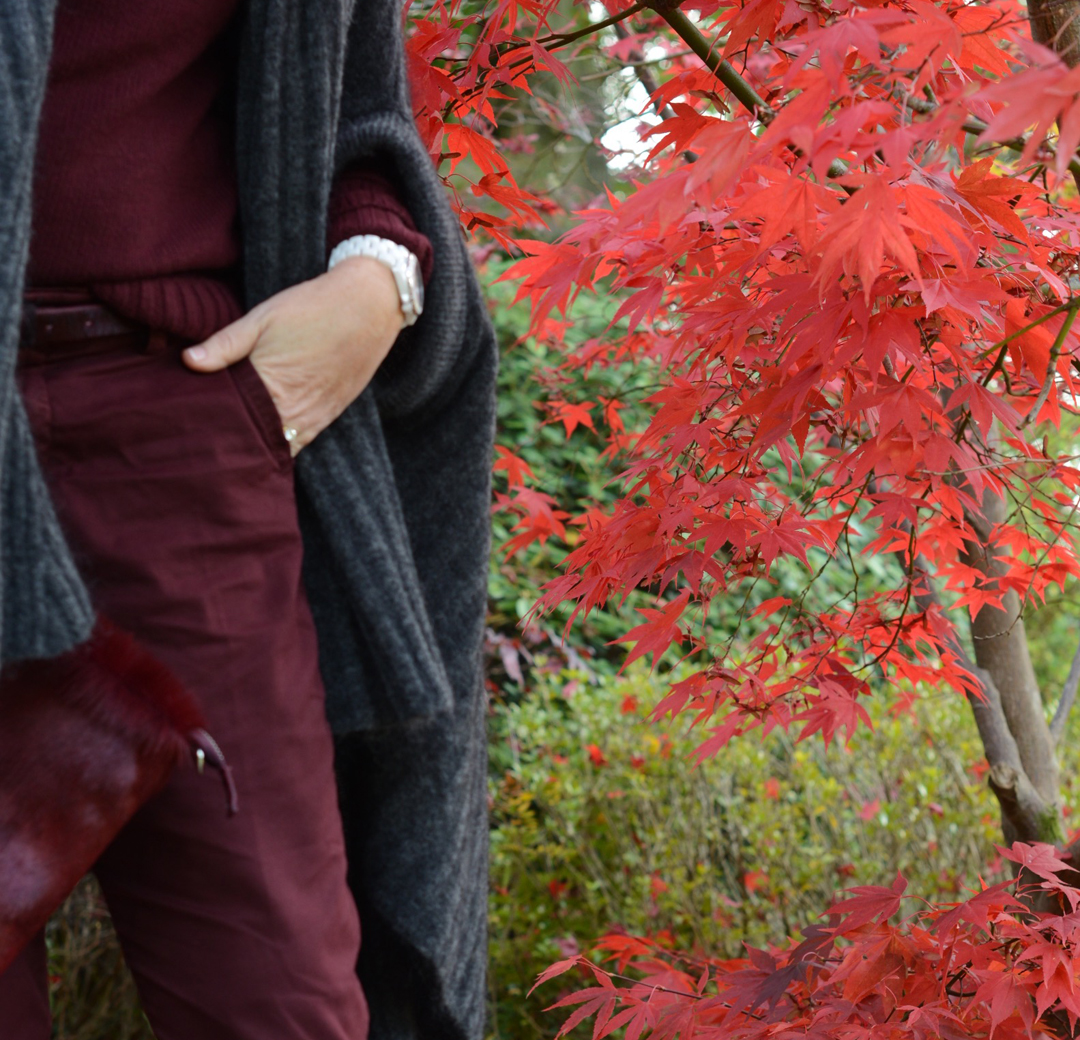 Opting for low-rise trousers is also a handy trick. Don't be fooled into thinking high-waisted styles are here to befriend you… the more you try to squeeze your thickening body parts into confinement the worse you will feel. Stick to low-waisted styles and oversize your tops for a much more on trend and comfy look.

Monochromatic dressing… where to start.
So which monochromatic dressing hues might be the perfect ones for you? If you stick to a few classics as mentioned above – think navy, greys, neutral camel tones and blacks if you have a darker complexion than mine, then start to build your outfits with some simple separates which will work from season to season.
Look for cropped pants with a pared-back aesthetic, oversized knits and longline cardigans (like I was road testing above) for a casual school run vibe. Or try a simple pencil or A-line skirt with v-neck or turtleneck knits for a more office appropriate look. The less fussy the clothing, the better, as you don't want to clutter your new streamlined silhouette up with ruffles or embellishments to mess up your minimal chic.

(Visited 233 times, 1 visits today)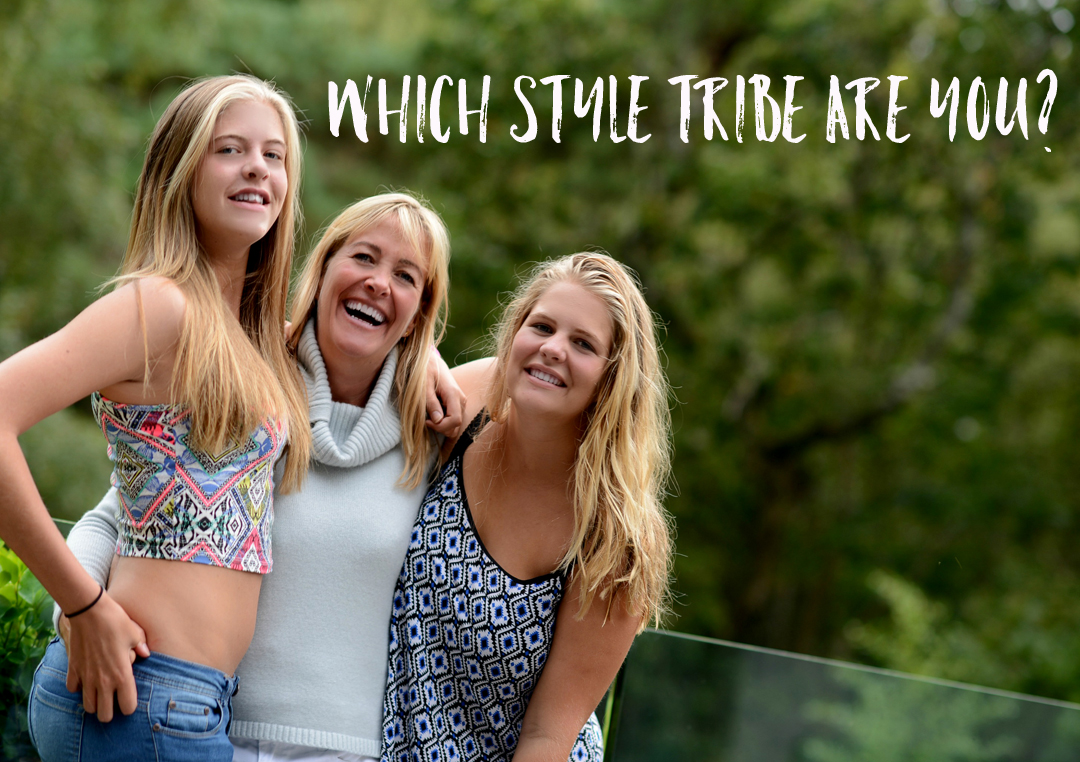 Style Tribe Quiz
Try our Style Tribes quiz to help figure out your Style ID
Get started with our free 5-minute style
tribes quiz - sign up to download