How to style winter white.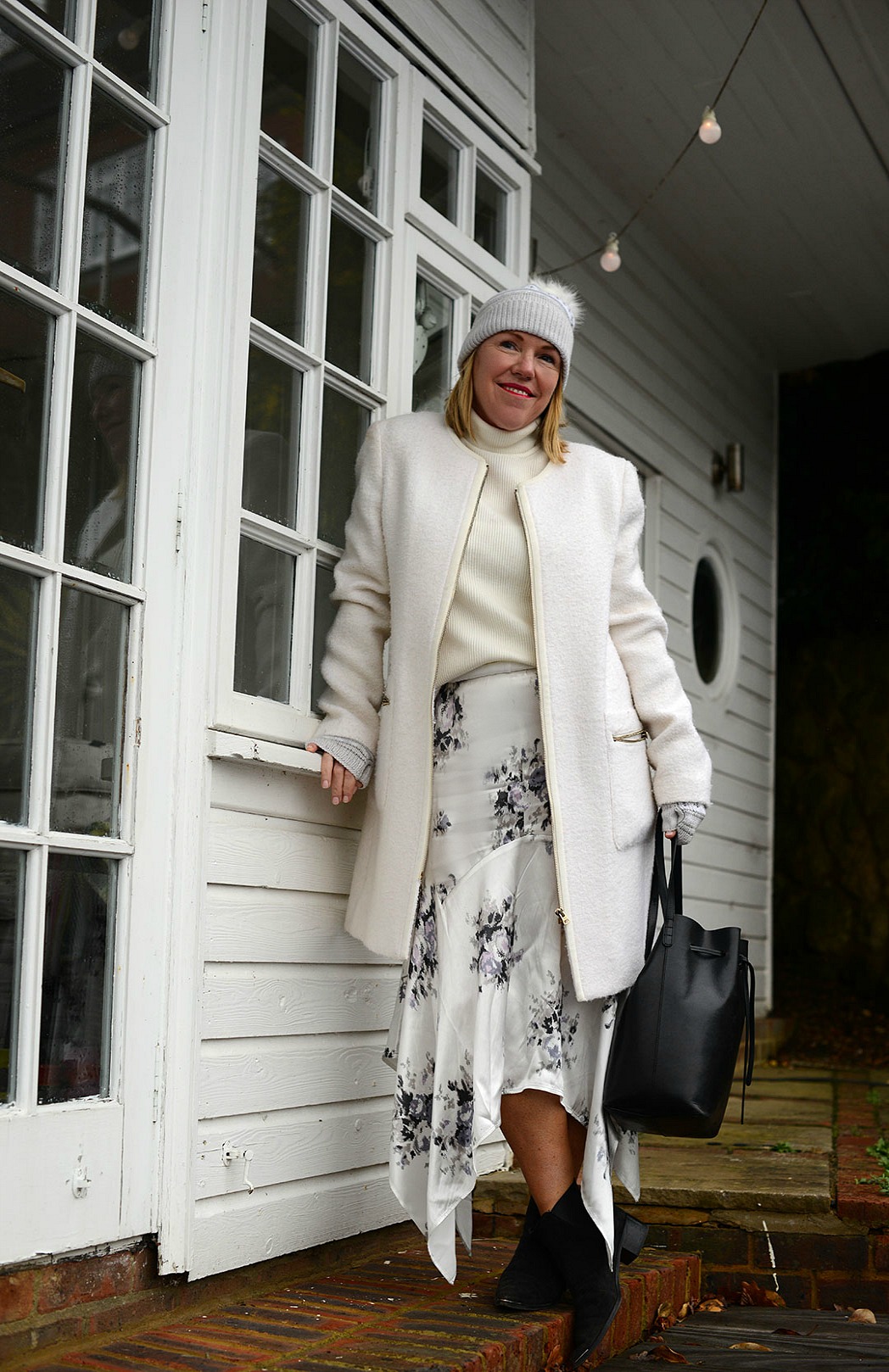 If you're a regular reader of Notes From a Stylist, you may well have figured out that I'm quite the convert to a little monotone dressing. Being slightly on the short side, dressing top to toe in one colour has its style advantages as it makes people think you are taller than you are. This week in an homage to the festive wintery season, I figured the best monotone look to break out and wear on repeat would be white, so here's my take on how to style winter white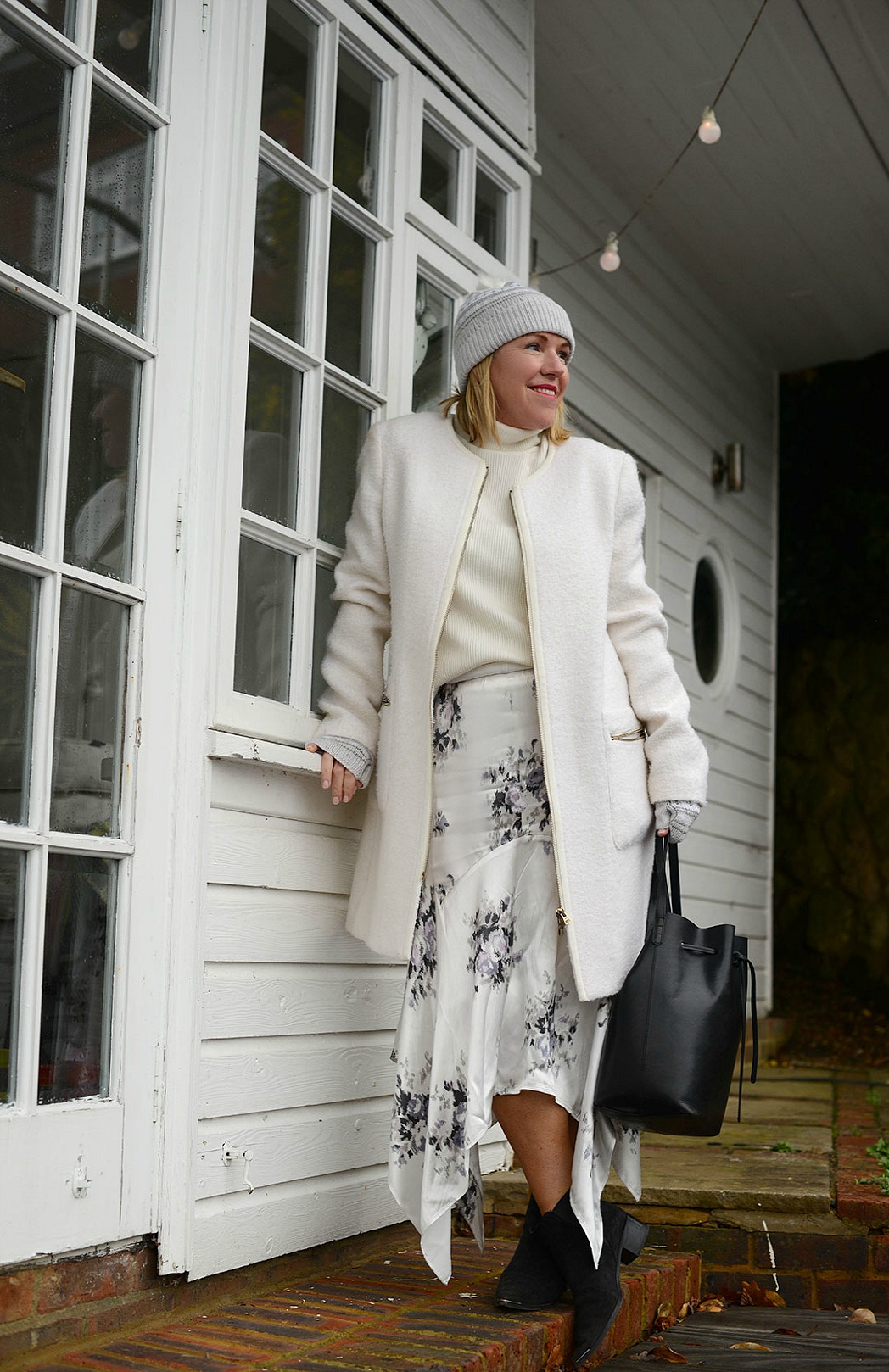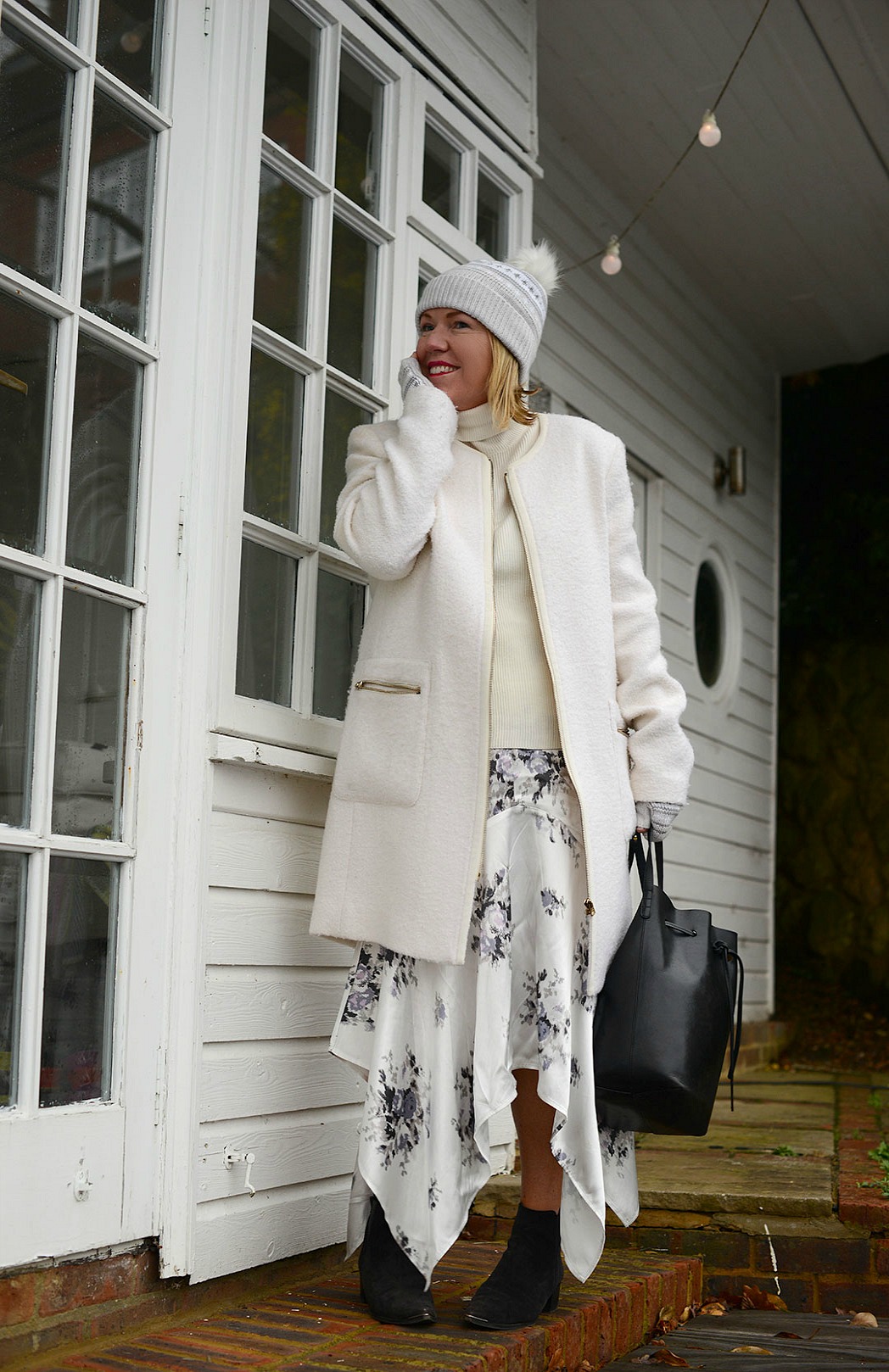 Ganni skirt, Club Monaco coat (similar here), Massimo Dutti knit, Mansur Gavriel bag, Acne boots, TheWhite Company beanie & gloves.
For me, there's something quite decadent about wearing white in the winter. Granted it only gets an airing when there are no kids or dogs in proximity, so this was an outfit I was wearing when heading up to a bunch of meetings in London last week. There is absolutely no way on God's earth that this look has an ounce of the practical about it, but hey, if you have some adult time then it's worth a ponder this season, especially as winter white is having a bit of a moment in the style charts for AW18 too.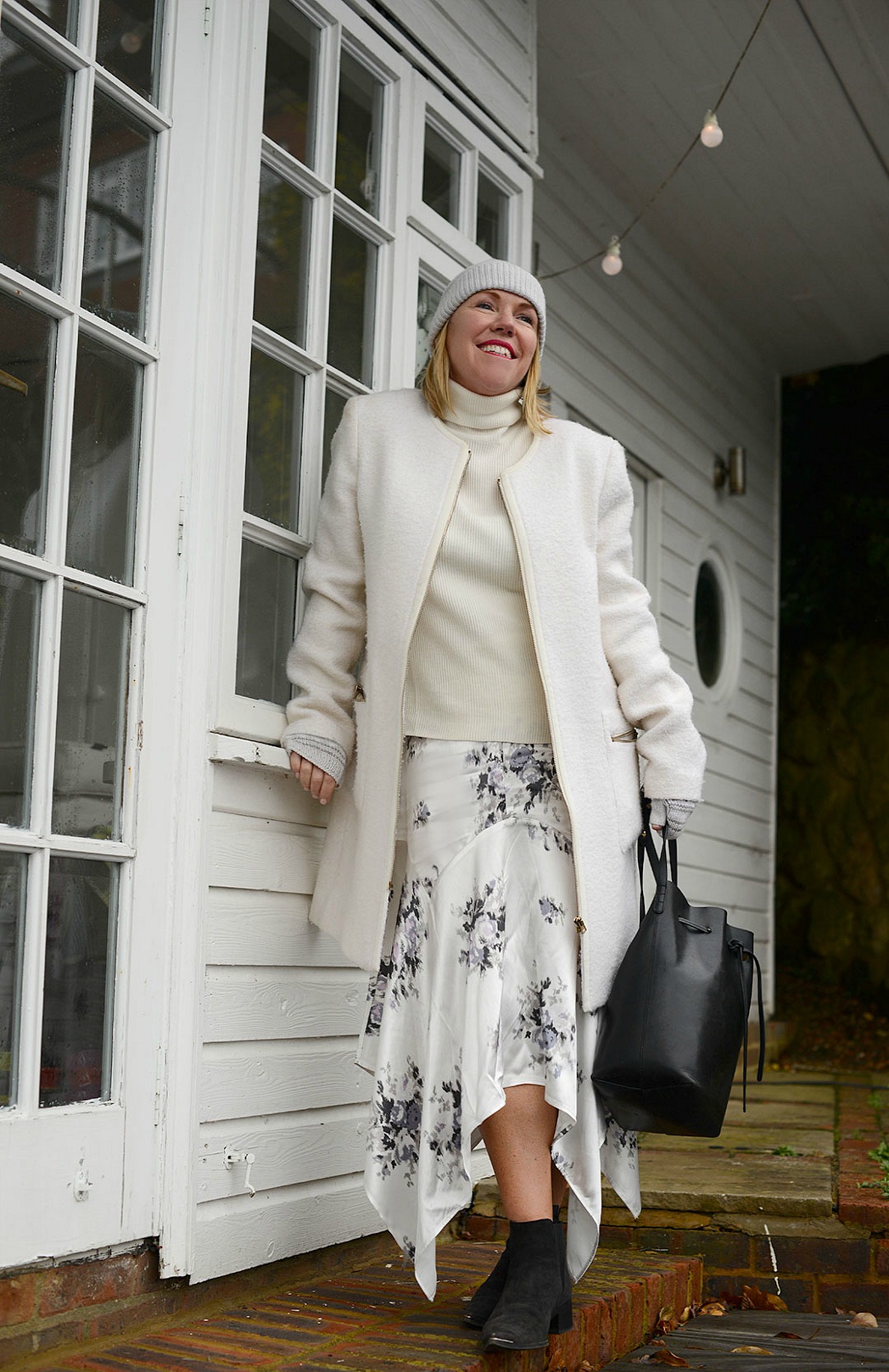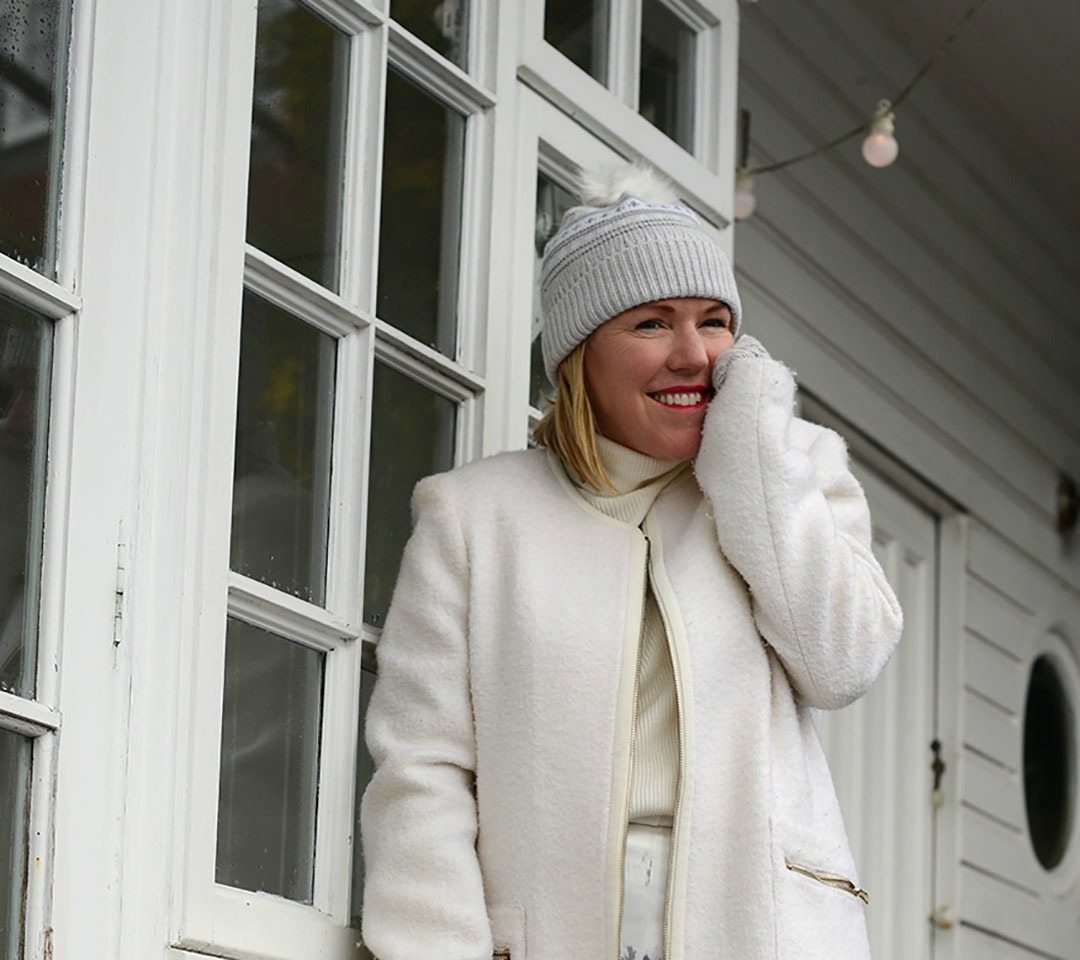 I'm also loving the fact that I've wrestled this winter white coat off my daughter – found it in her closet the other day which reminded me that it actually belonged to me and had merely been pilfered by her teen light fingers. It's an oldie from Club Monaco, but while we're on the subject of styling up monotone to make petites look a tad taller, then take a peek at this perfect example of a single-breasted coat. Its linear zip front has that lengthening trick which lends itself well to making the silhouette look longer… and ergo makes the wearer look taller – huzzah!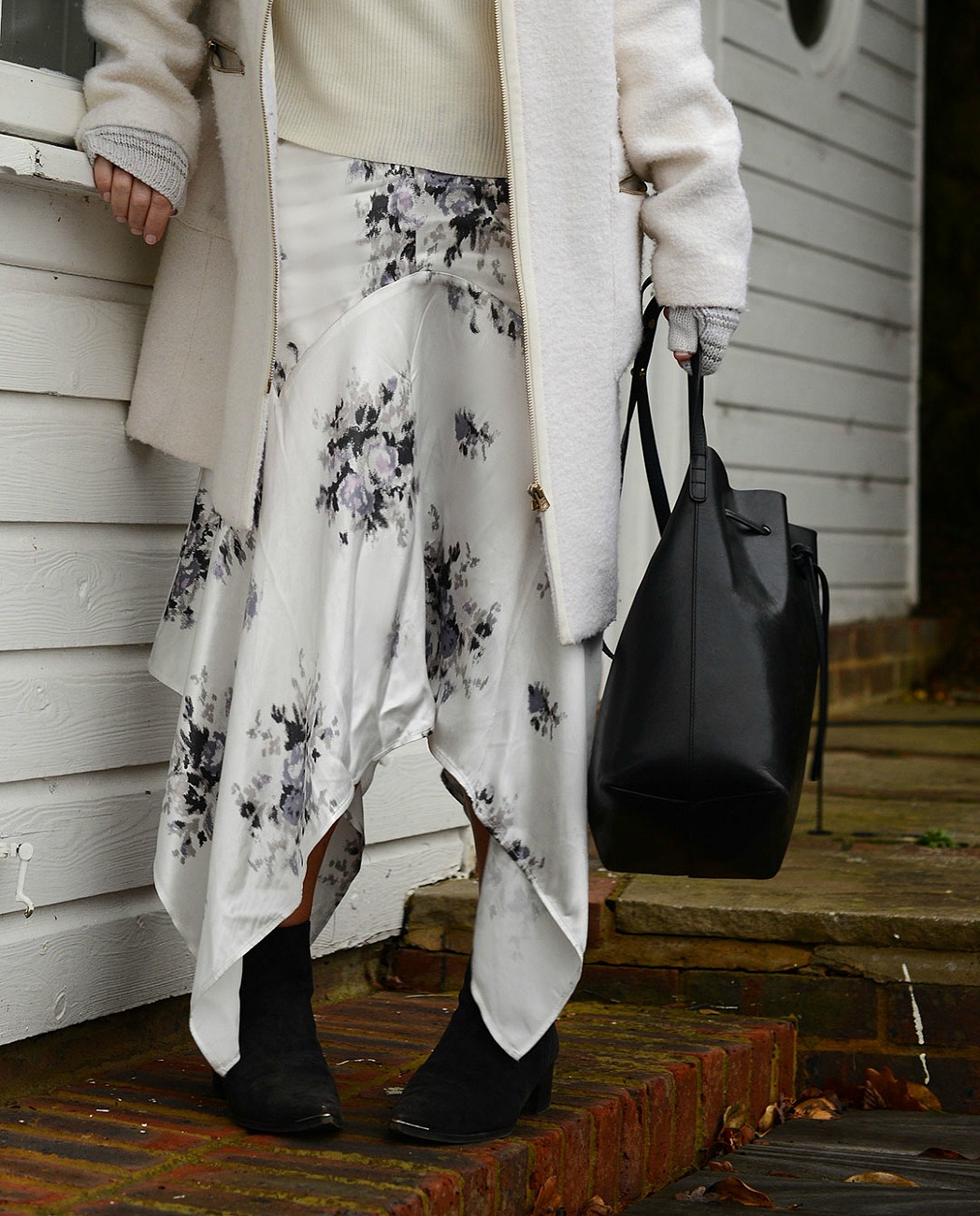 Then don't even get me started on the gorgeousness of this handkerchief hem Ganni skirt. There are a bunch of Scandi labels swirling around on the popularity stakes right now, but Ganni is streets ahead and comes in at an affordable price point so be sure to keep an eye out for it next season.

Winter white… where to shop.
So where to snap up your winter white this season and what to look out for? As it's the festive season opt for silks and satins where you can – perfect for party night attire. Or look to soft and sumptuous cashmere knits, warm wool coats or classic crisp cotton shirts. For accessories, white boots are having a bit of a moment so keep your eyes peeled during sale season to snap up a pair. Regarding where to shop – there's plenty around for everyone, and the winter sales are about to kick in. So here are a few of my faves out there right now. Click the images to shop. #AffiliateLinksUsed.

(Visited 329 times, 1 visits today)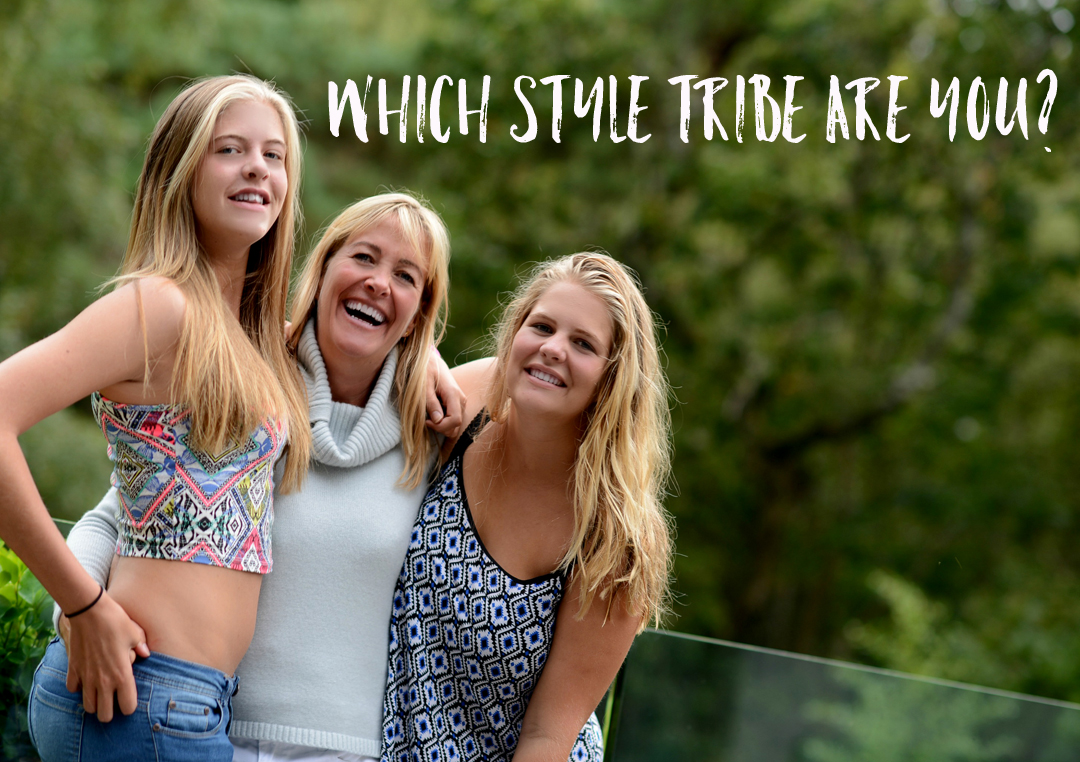 Style Tribes Quiz
Try our Style Tribes quiz to help figure out your Style ID
Get started with our free 5-minute style
tribes quiz - sign up to download