Transitional Oversized Knits for Spring.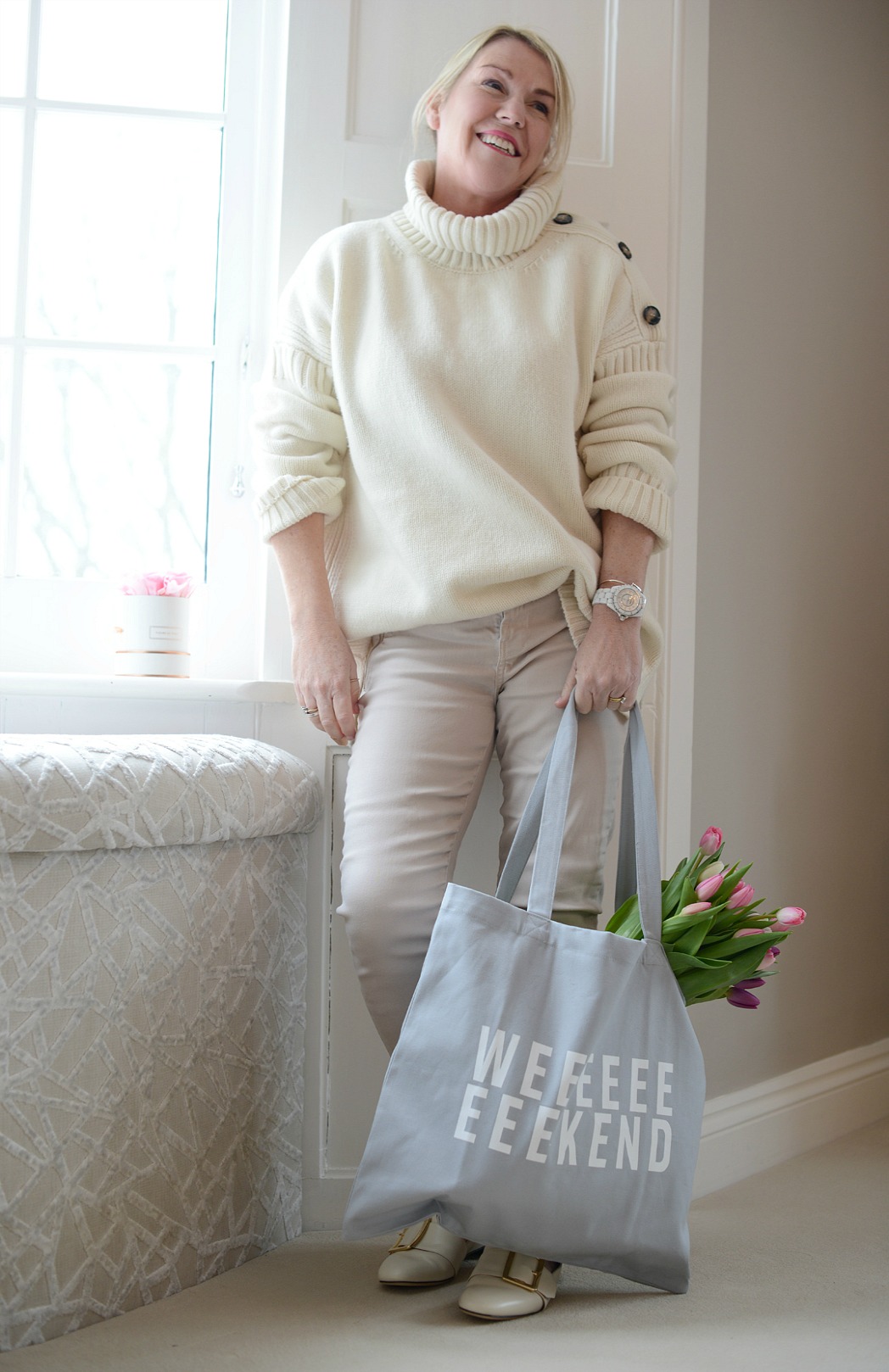 So we've survived the polar vortex and the promise of spring is winking at us from afar as the odd blossom tree braves a bloom or two and snowdrops take a peek above the parapet, but it's still flipping cold out there, so I'm still working my layering uniform of oversized knits and jeans. It's probably one of those comfort zone things that I really should try and wriggle free of, but the fact is you can't beat a woolly pully and some comfy trousers (or slacks as my mum used to call them) to get you through most daily duties.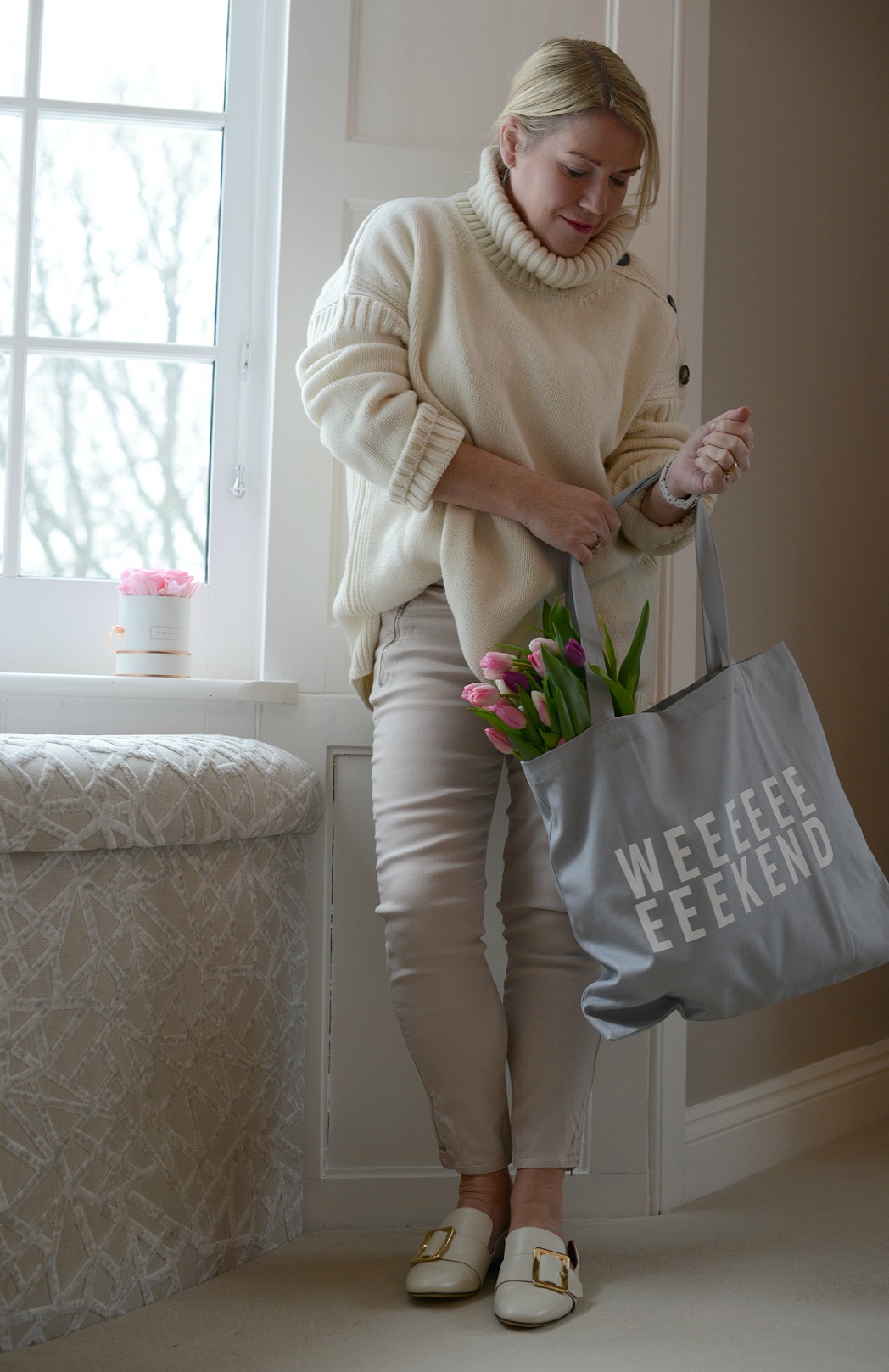 The great thing about getting into these knits as a layering weapon at this time of year, is that they are thick enough to (possibly) wear without a coat – oh happy day! But also there are loads popping up on sale, and if you keep your eyes peeled a thick knit in cotton can transition you perfectly from the freezing winter weather through to spring's slightly less chilly climes.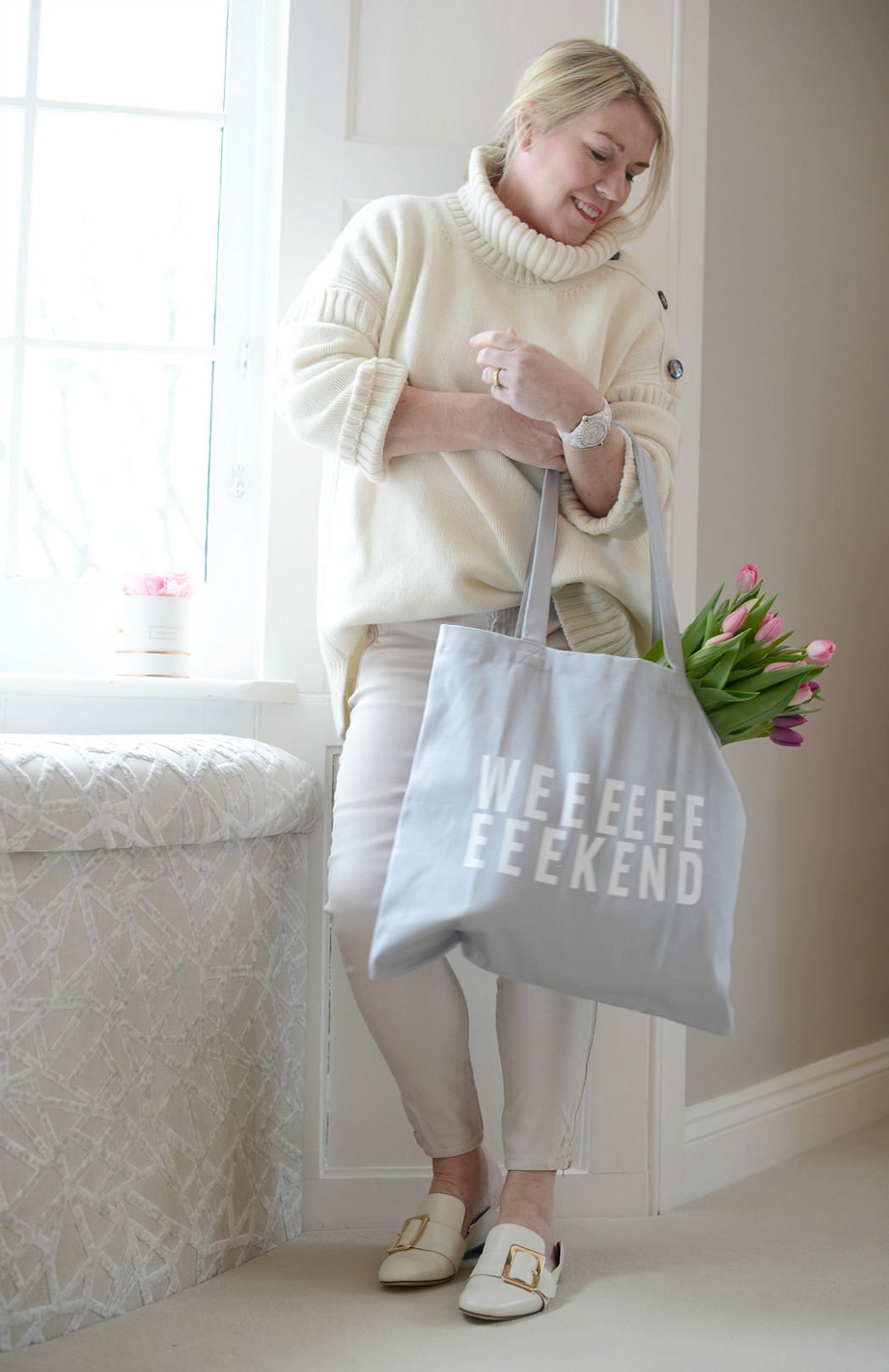 I'm also a big fan of monotone dressing (think dressing in all one colour, which you can read an earlier post on here). So hence the cream/white blend of this whole look with its magical powers of making me look a teeny tiny bit taller than I actually am… or at least in my little head it does! For full-on fashionista style points look out for an oversized knit in spring's new pastels and you will hit on-trend paydirt.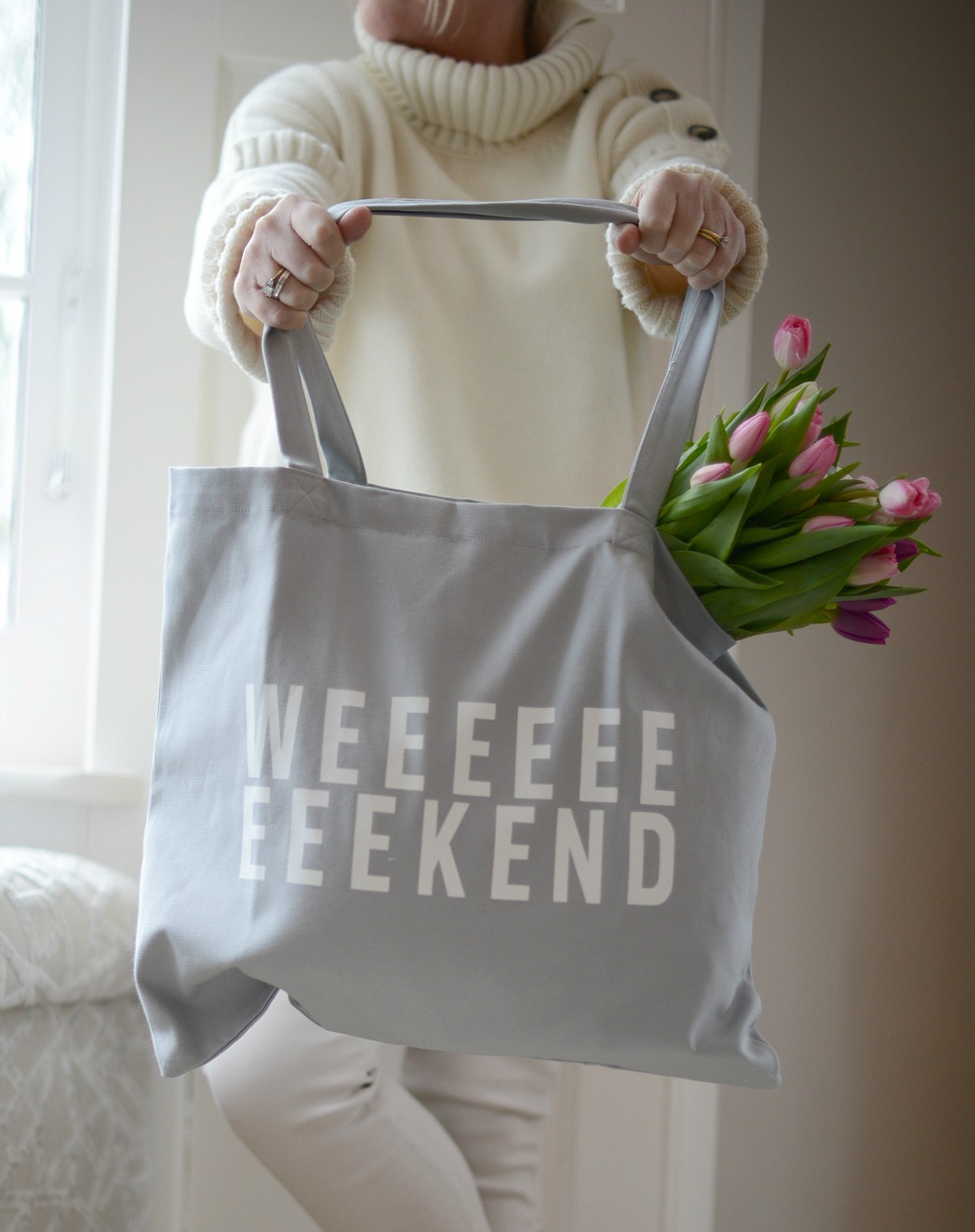 Regarding body shape, if you are slightly more well endowed on the top half steer clear of roll necks and polo necks and instead opt for a chunky knit in a more flattering V-neck or scoop neck. Also if you are on the petite side a medium chunk on the knit front will suit your smaller proportions better. Style wise, if you are opting for a super oversized knit then keep the bottom half on the straight to skinny jean side so that you aren't swamped by too much volume. A neat styling trick I use all the time is to tuck a little bit of the front of your knit into your waistband and let the rest hang down – this gives the illusion of a thinner waistline – boom! This look works well for the everyday and can also work in the office if you pair with a crisp white shirt underneath allowing the collar and cuffs to peek out.


Transitional oversized knits… where to shop.
My current fave place to snap up a great oversized knit is Me + Em, and they have some on sale right now too. But here's a smattering of some others to peek at – and remember mid-season sales are just kicking in so you might be just in time to snag a bargain.

I've added this post to the fab @notlamb #SaturdayShareLinkup by lovely Catherine Summers – if you're looking for some more great blog reads pop over for a peek.
(Visited 304 times, 1 visits today)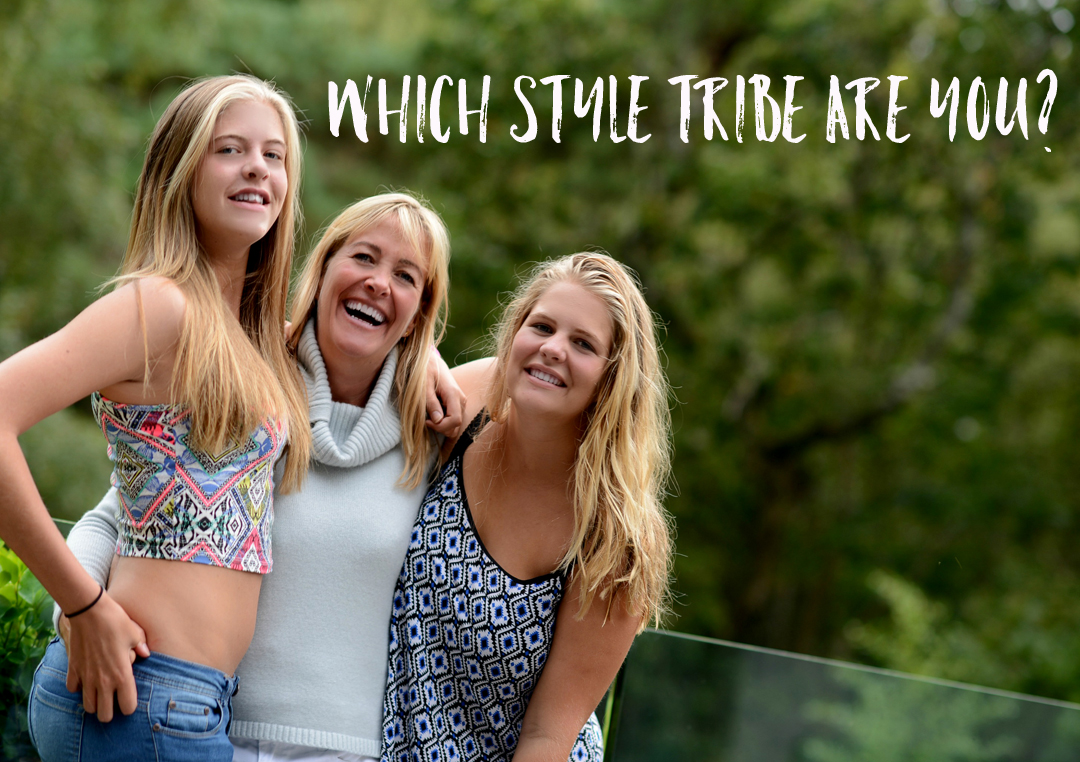 Style Tribe Quiz
Try our Style Tribes quiz to help figure out your Style ID
Get started with our free 5-minute style
tribes quiz - sign up to download