Summer stripes for the win this season.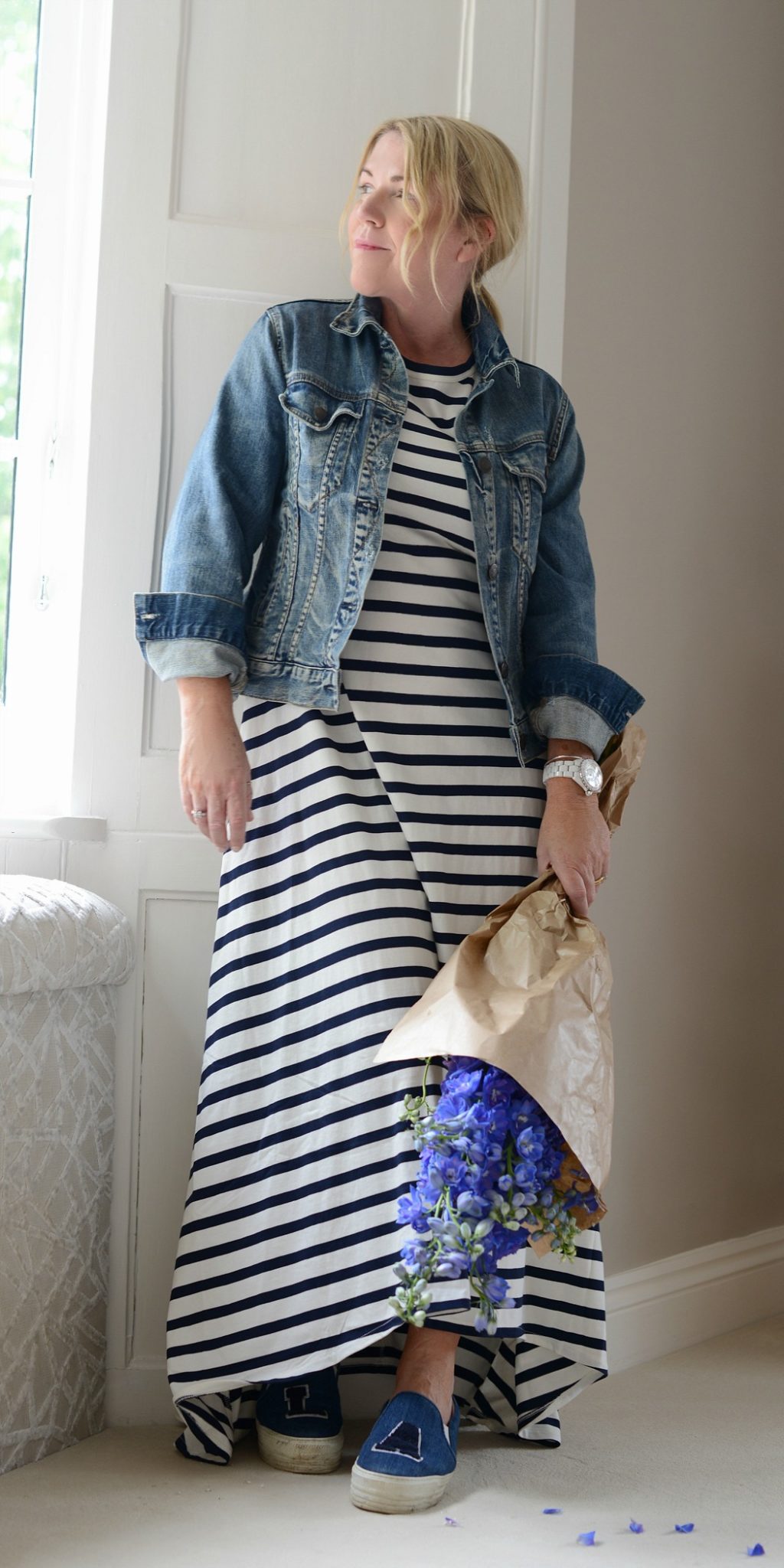 If you're looking for a no-brainer-works-in-all-weathers-chic kinda style to carry you through the rest of the summer, you can't go far wrong with summer stripes. Whether you're a fan of the basic Breton or have a yen to sport a more preppy vibe this season, then it's time to invest in some of these habitually seasonally perfect looks which can also flatter your figure at the same time.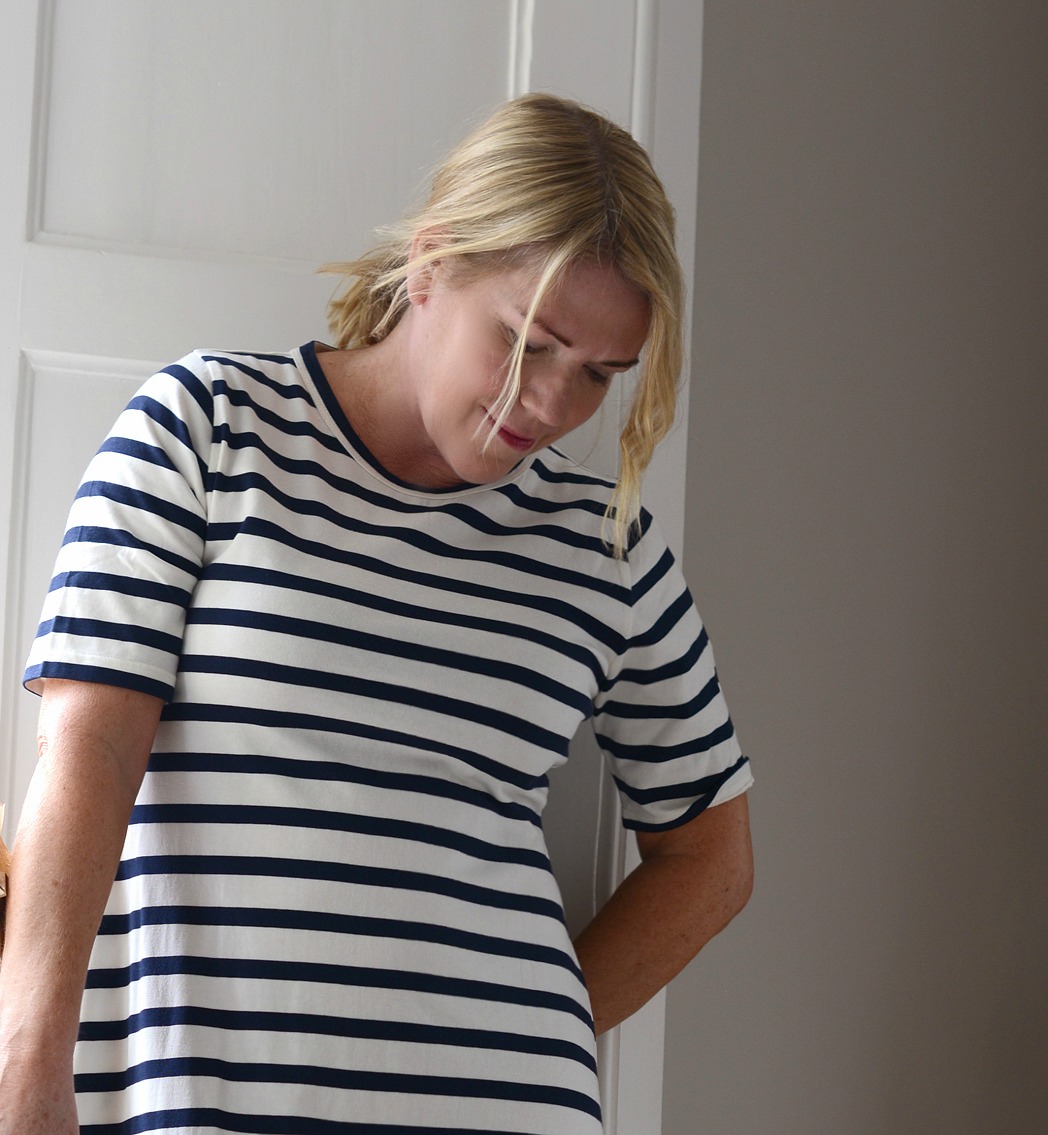 For me, summer stripes (a bit like my gingham fascination – see the previous post here) are fab for signalling that the easy breezy vacay season is here. School's out, school runs can be consigned to the end of the to-do list until September, and nobody cares whether you roll out of bed after 9 am for the next seven weeks. Instead, it's time to set yourself up with your summer uniform which can take you from beach to park to playing with the kids (or at least grappling them off the Fortnite for a few hours). Step forward summer stripes which hit the sartorial vacay season nail smack bang on the head.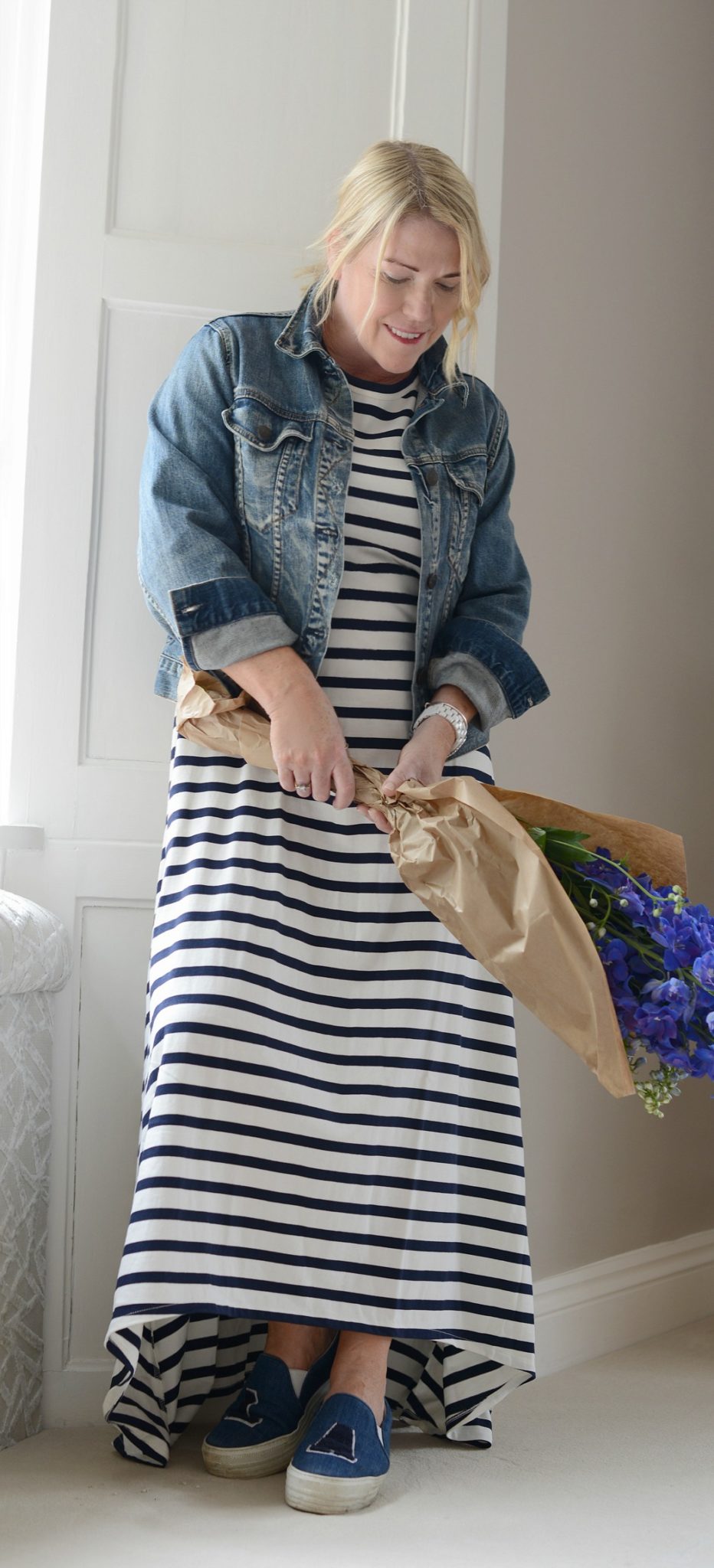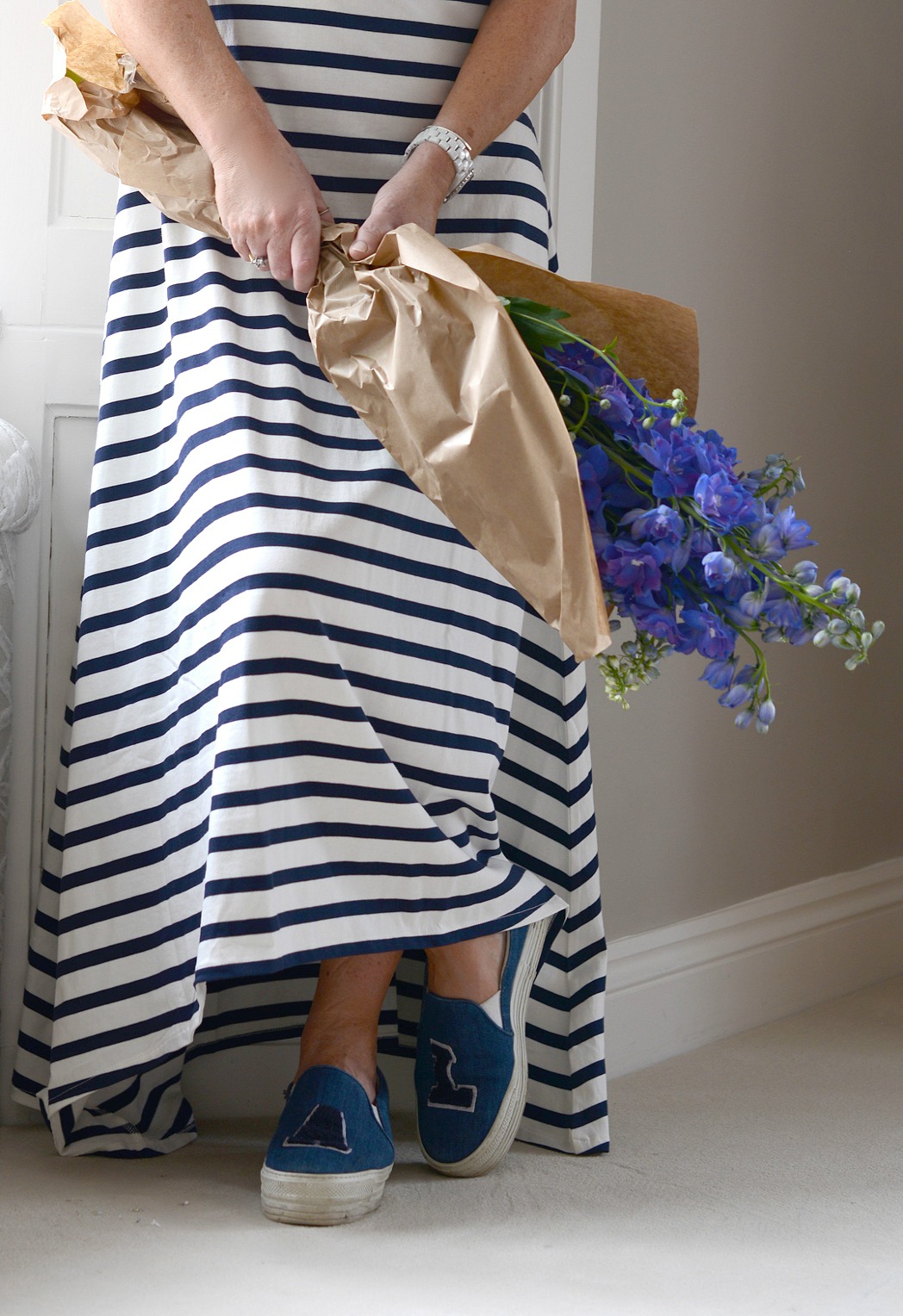 J.Crew dress (similar here and here), J.Crew denim jacket, Joshua Sanders LA sneakers.
I'm loving this J.Crew maxi dress as my go-to dash about day wear right now. Here I've paired it with J.Crew denim – so glad these are back – they remind me of halcyon days in the 90's when the kids were teeny, and we'd pair our denim jackets with a white tee and a floral skirt and thought we were the height of fash! This time around pair your jacket with a maxi dress and some sneakers and you actually are the height of fash, no word of a lie!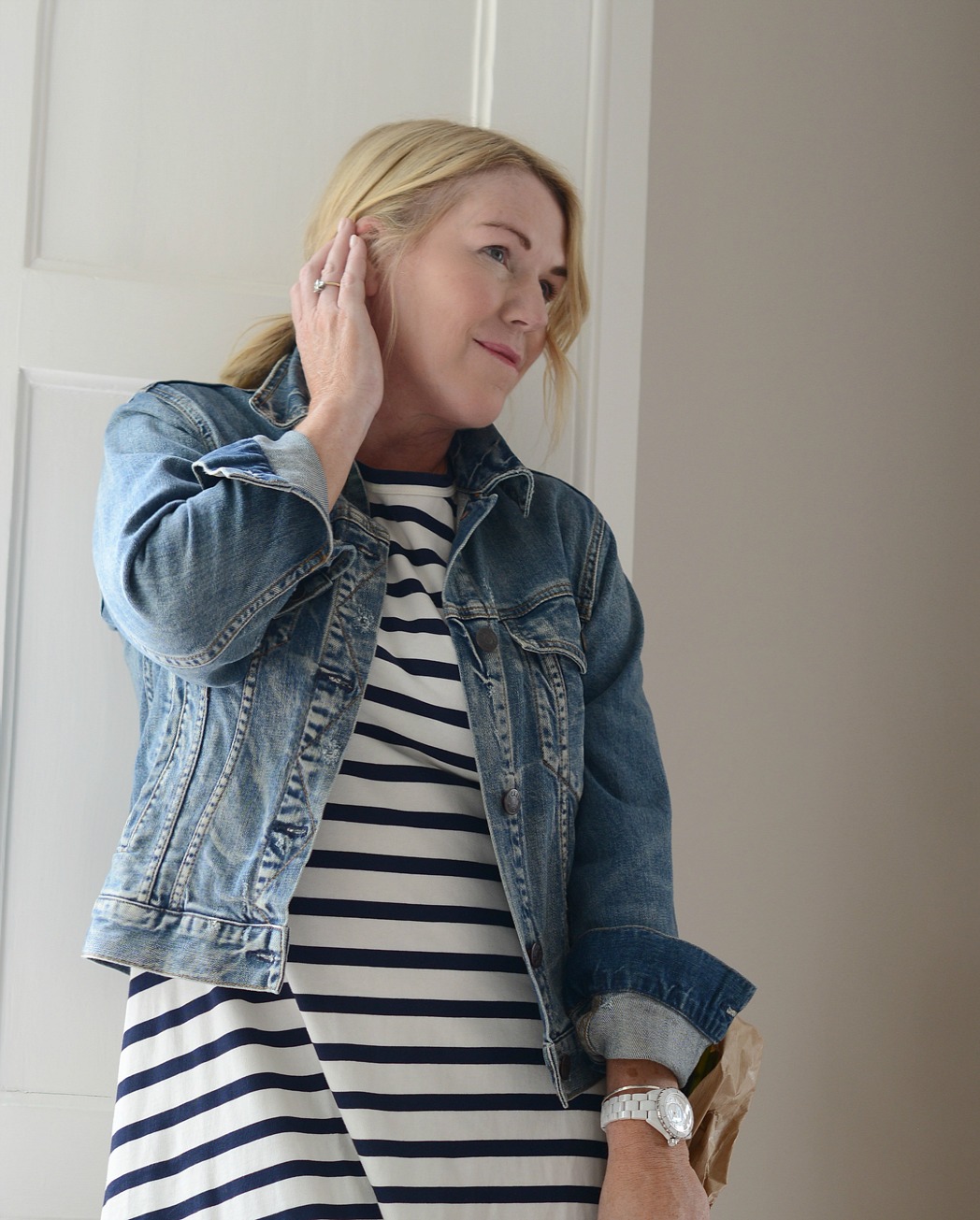 When looking for the perfect summer stripes to suit your body shape, it's a tricky path to pick through. The trouble with their geometric genetic makeup is that not all striped garments out there are going to flatter your figure. Take a peek at our previous posts here on which body shape you are and then this one on which stripes suit your body shape here.  But at a basic level remember horizontal stripes tend to be widening so if you are trying to hide lumpy bits, then a vertical stripe is probably better as your first port of call. Likewise, diagonal stripes have all sorts of slimming and widening powers and work a treat on fooling the eye of the onlooker to believe that you, in fact, have a waistline where only mid-life muffin top actually exists. The taller and more statuesque you are, the larger stripe you can work with, alternatively, if you are on the petite side, go for narrower stripes, so you don't end up being swamped.
Summer stripes… where to shop.
To nab a totally on trend summer stripes look opt for pieces with added embroidery, statement sleeves or slogans for starters. If you want your stripes to segue through to the cooler autumn months, then look for darker prints which could double up as a pinstripe come the change of season.

(Visited 400 times, 1 visits today)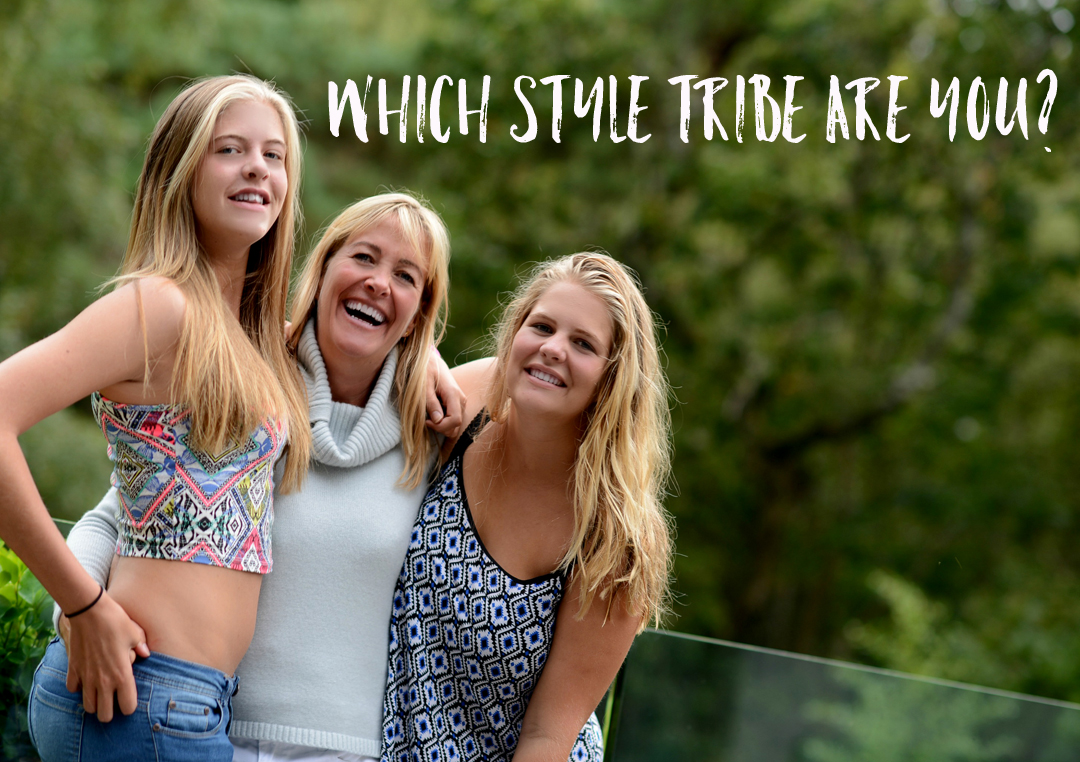 Style Tribes Quiz
Try our Style Tribes quiz to help figure out your Style ID
Get started with our free 5-minute style
tribes quiz - sign up to download